This style breast collar has been showing up more and more as I travel the country. They seem especially prevalent in small pony and mini harness. They feature a ring where the trace tug is anchored to the breast collar. One assumes this is intended to accommodate varying lines of draft (line of weight bearing) from one vehicle to the next.
That idea may have merit, but the ring being placed forward on the breast collar effectively makes the bearing surface on the collar smaller. Take a look at what I had to say about it in the video below:
Subscribe to my YouTube Channel
This example is not the worst example I've seen in the field.  In her case, it probably isn't causing much of an issue.  However I've seen breast collars with the anchor point much further forward.  These often cause the breast collar to warp and move out of position.  In some examples, I've seen the end of the breast collar squeezing inward, causing rubs on the pony wearing it.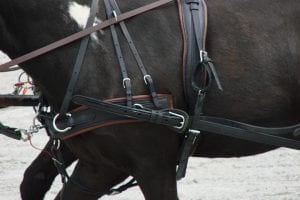 I'm not against trying to come up with better harness, and innovations that allow a horse to make better use of the equipment. It's just that sometimes what seems like a good idea doesn't go so well in it's application.
I'll continue to keep an eye out for other harness fit issues, and post updates here, and on my YouTube channel.  Help me get the word around by subscribing to my channel, and sharing this page.