Rates Disciplines   Carriage Driving   Long Lining   Riding
My Training Philosophy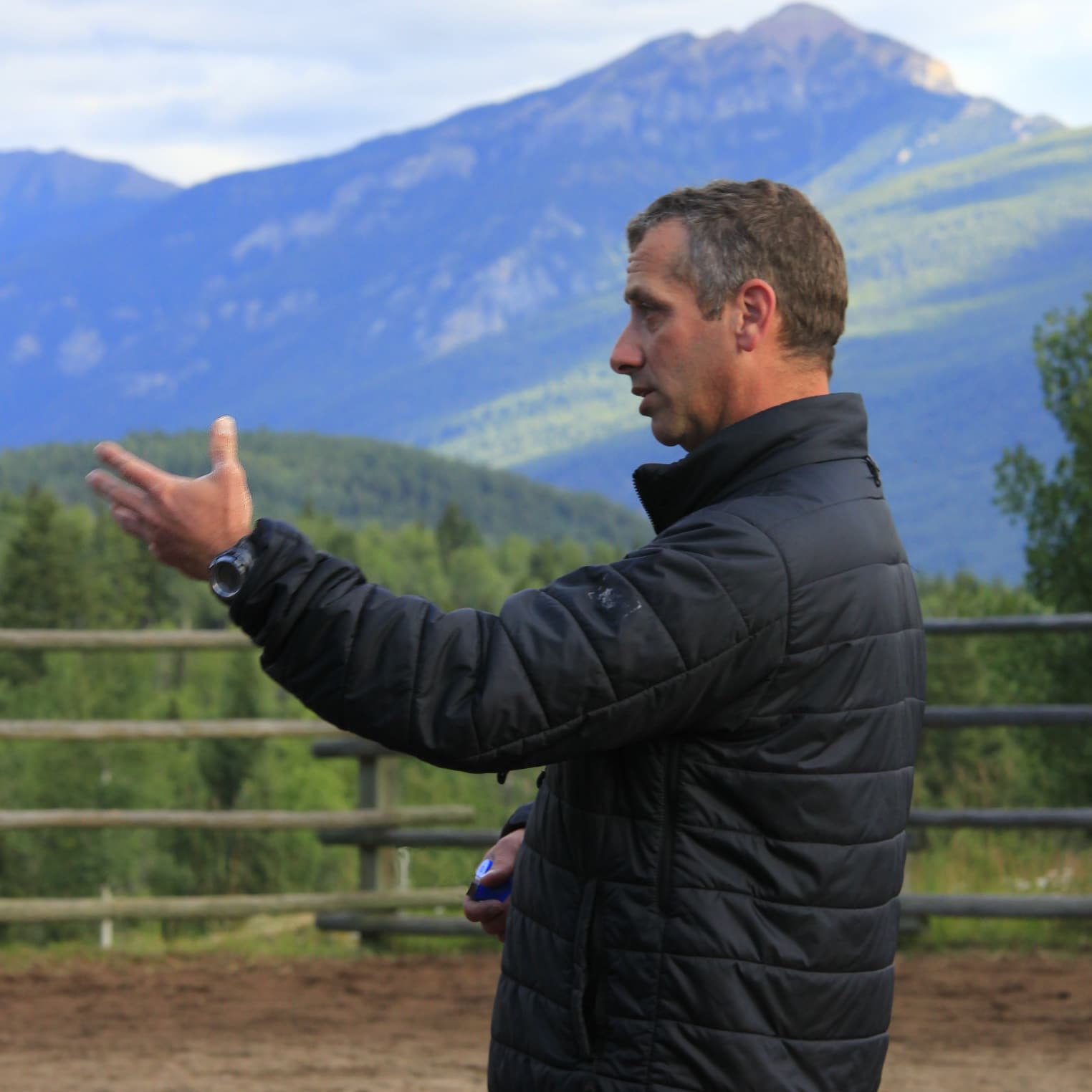 I strongly believe that any horse that allows us to ride, or hitch him to a carriage and drive him is trying very hard to understand and give us what we want. There is no way in the world we could get a horse under saddle or in a carriage if the horse were an unwilling participant. After all, we've all seen the consequences of a horse who is unwilling to be ridden or driven!
With that in mind, I feel that it is our obligation to communicate our intentions to the horse as clearly as possible. That means developing the tools of communication for the horse and for the equestrian. The more clearly a horse understands each of those tools, the more clearly a rider or driver can communicate with a horse.
In lessons and training, I strive to develop those tools of communication for both the horse and the equestrian. I train horses with the fundamentals of dressage in mind as a basis for sound body mechanics. When a horse is methodically trained to make the best, and most efficient use of its body, it will be able to do the work that it's asked to with comfort and ease. This makes for a calm, confident horse who can work for years without physical or mental breakdown.
Training & Instruction Rates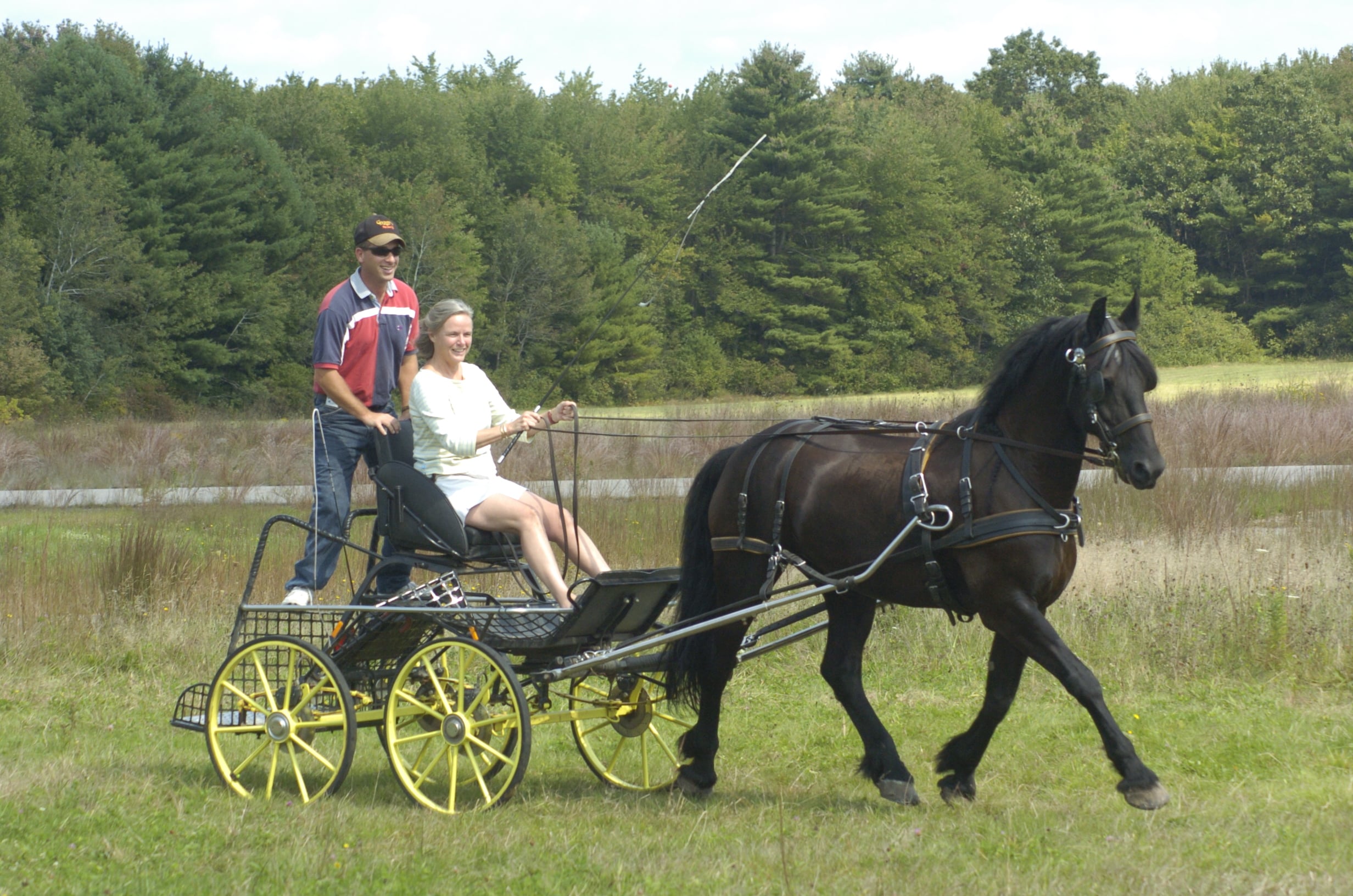 Lessons or training cost $85 per session.
As each horse & student is an individual with needs unique to their stage of training, the duration of each session will be as long or short as necessary for the same rate (within reason). Generally speaking lessons last about 50 minutes, but may run longer.
Prices for multiples (i.e. 4-in-hand, tandem, unicorn) may be slightly higher on an individual basis, depending on the amount of extra time they require.
Locations

Regular lessons and training take place in East Bridgewater, MA.  However, there are "satellite" lesson days that take place throughout New England.  If you'd be interested in hosting a lesson day or having me travel to your location for a few days of lessons and training, head on over to my Clinic Page to learn more about organizing that.
Formats and Disciplines
You don't need to be a competitive driver or rider to benefit from lessons. I enjoy teaching horse enthusiast of types in what ever activity they enjoy their horses the most.
Lessons and training can be conducted in a wide variety of disciplines in the carriage, under saddle, or on the ground. I always encourage my students to use all of the training disciplines that are possible for equestrians and equines alike. Working in each discipline opens up new possibilities for communication and learning. 
Carriage Driving
With over 20 years of experience as a professional Coachman and trainer, carriage driving is my passion, and strongest area of
expertise. My early years of driving were spent with commercial horses, helping with and driving for hay rides, weddings and all sorts of other livery type driving.
As my interest bloomed into a passion, and a career, my driving moved in a more sporting direction. A working student position with the late Deirdre Pirie introduced me to the world of Coaching and Combined Driving. After graduating from college, I held positions as Coachman and trainer at various private stables throughout the United States. This brought me the opportunity to drive and compete with everything from single ponies, to four-in-hands put to Coaches.
As a coach and trainer I've guided students through shows and events from club fun days, to advanced level national combined driving events. The joys of carriage driving are universal, no matter the scale they are practiced on!
Lessons and training are available for driving:
Single
Pairs
Four-in-hand
Tandem (My personal favorite!)
Training and instruction for competitive drivers in:
Combined Driving:
Driven Dressage
Conditioning and Marathon Training
Hazard (marathon obstacles) Driving
Cones Driving
Pleasure Showing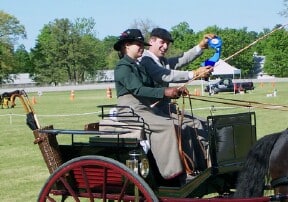 Preparation for driving in company
Reinsmanship and Super Reinsmanship Driving
Working Class Driving
Pleasure Obstacle and Games Class Driving
Putting together a winning presentation for turnout classes
Training and instruction for recreational drivers in:
Trail and public road driving
Driving horses in company
Driving as a new career for an otherwise trained horse.
Starting horses and ponies for carriage driving:
I am different than most trainers in that I do not have a training stable for full time training. As a result, I start only a few, select horses or ponies for driving each year. This is often done as a team effort with the equine's human companions as teammates in the process. This makes the process of starting a horse or pony to drive a longer commitment than your typical 30-day program. The results are driving horses and ponies that have a very solid foundation with their people. If you are interested in starting a young horse to drive, please get in touch with me to discuss the possibilities.
Long Lining
Long lining is an excellent exercise for horses of all disciplines. This is a low-impact exercise that can be used for physical therapy, skill building, or for stretching and strengthening. Integrating long lining into your horse's training regime can help your horse achieve a higher level of performance.
Long lining allows an Equestrian to better understand their horse's gaits and movements. Students of long lining learn how to use the horse's bit and bridle on a whole new level. When returning to the saddle, the rider is able to connect the new coordination and observations learned while long lining to become a more educated rider. Carriage drivers return to the carriage with a clear picture in their mind of how their reins effect the bit, and in turn the horse's way of going.
Benefits of Long Lining:
Excellent Physical Therapy for Horses Recovering from Injuries
Low Impact Workout
Helps Establish Correct Contact & work Through the Bridle
Builds Rock Solid Half Halts
Helps Establish Better Gaits and Rhythm
Allows You to Create More Consistent Transitions
Builds Suspension in Your Horse's Stride
Create a Longer More Supple Frame
Establishes Lateral Coordination
First Step Toward Carriage Driving
Under Saddle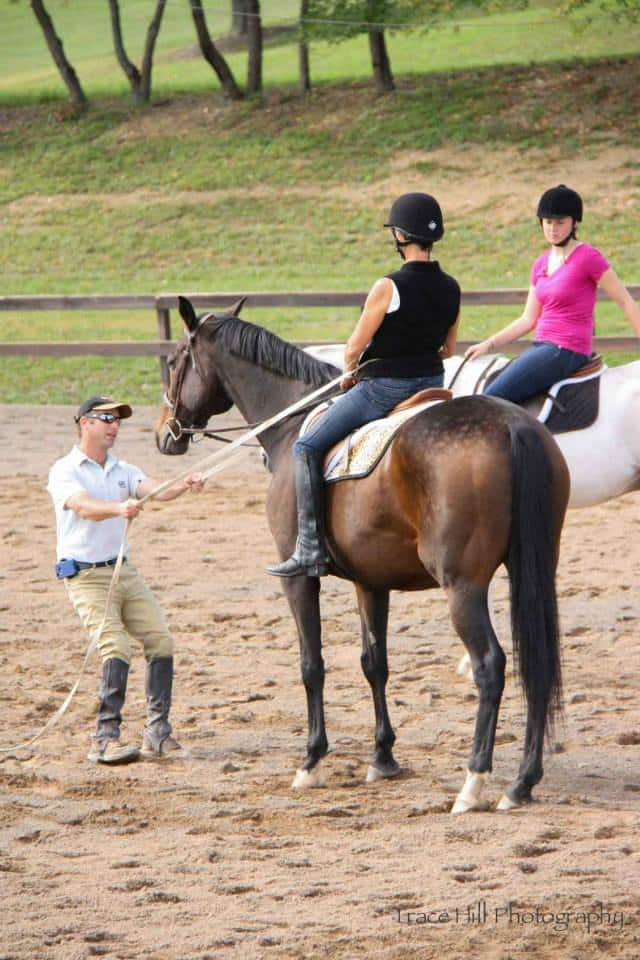 My introduction to horses was under saddle at a great big lesson barn in Concord, MA with lesson ponies in classes of 20 students
at a time! Nothing thrilled me more as a kid than getting out of the ring and blasting through a Hunter-Pace event in questionable New England weather! To be quite honest, I struggled as a rider through my youth and early years of training horses (which was part of what got me into carriage driving.) As I developed my skills as a horse trainer, my understanding of working with horses under saddle grew. I learned how to use ridden work as a tool for further a horse's training.
Throughout my career I've maintained my connection to riding, mostly through dressage as a systematic approach to training horses. I've studied under top professionals and complete unknowns in ridden dressage and eventing. Each gave me invaluable kernels of information and tools that I use each and every day in my training.
My perspective "from outside" the riding disciplines has helped me develop a unique insight into working with horses under saddle, and with their riders. Rather than falling into the rote terms of riding lessons like "Head up, heels down", I explain the "why" as much as the how to help riders become the most effective equestrian they can be.
Lessons and training under saddle are available for:
Ridden dressage
Trail and recreational riding
Versatility training
Riding tandem (One horse under saddle, the other in long lines. SO MUCH FUN!!)