One thing that drives me crazy is "theoretical instruction." Like most people, I start to get fidgety, even anxious when an instructor makes a deep dive into theory, no matter what the subject. After all, it's great to know the theory, but I want something I can use!
(there's something you can use at the end of this article!)
That's why I make a huge effort to be sure that just about anything that I put out there has a really good practical application component. It doesn't matter if it's a blog post, article, youtube video or just a quick note.
I feel like there's an exchange. I've asked for your time and attention, so you should get something in return for that. So I'm always looking for something that you can take away and put to use in return for your time and attention. I think it's only fair.
So why would I choose to host a class on something like the training scale?
When I create a class I want it to be fun, interesting, and most importantly, practical. At first glance, the subject seems to have all the hallmarks of a class on theoretical development that could turn into a deadly boring drone-fest.
Breakthroughs
Almost nothing is as exciting as a breakthrough moment. It feels as if you go from "nothing works" to "this is awesome!!" in a single turn. In my experience, most of the most important breakthroughs have come to me when I've returned to the training scale for guidance.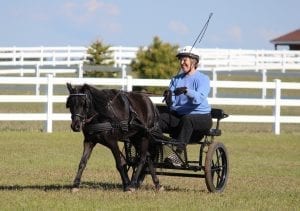 Understanding the training scale can help unlock your pony when you find yourself at an impasse. I don't want to mischaracterize it though. The training scale isn't about shortcuts. It's about how to make what you're trying to accomplish easier by following a consistent order of development.
Filling In the Gaps
Many, if not most carriage drivers entered into their horsemanship as adults. This is a contrast to most other disciplines where equestrians were introduced to horses as children, often from other family members. That leaves "adult learners" with a pretty large gap in knowledge that those of us who grew up around horses take for granted.
That gap is the collective knowledge and experience that is shared in a community of equestrians. Those who grew up with horses have spent countless hours in barn isles, at horse shows, 4-H, Pony Club, or similar environments. Those experiences go a long way to inform and develop an equestrian.
Learning about the training scale can help to fill in some of those gaps in understanding of how a horse develops in any discipline.
Confirming What You Already Know
Sometimes the most useful learning is the confirmation of something you already know. Your instincts are often serving you better than you realize. There are little things you do every day with your horses that "just work." You might not be able to put your finger on just exactly why it works, but it does.
Once you have a reasonable grasp of the training scale, you'll recognize why certain things have been working for your horse.
Built In
The great thin is that if you've been following my teaching, the training scale has already been built into just about everything you've learned. It doesn't matter if we're talking about improving your reinsmanship, your horse's gaits, or driving better hazards. The training scale has informed every piece of instruction I've given you.
So this class serves to "give you a look behind the curtain." It uncovers the methodology that's built into the classes and lesson plans. Better yet, you'll get clearer context for understanding just about any training that you do with your horse.
Bringing It Into The Real World
Of course, I still have that compulsion to make sure that I'm giving you something you can really use. I'll give you tools and examples that will help you bring the concepts of the training scale into your own driving.
Since you've given me this much of your time and attention, I'll give you a fun little exercise below in return!
Using a Metronome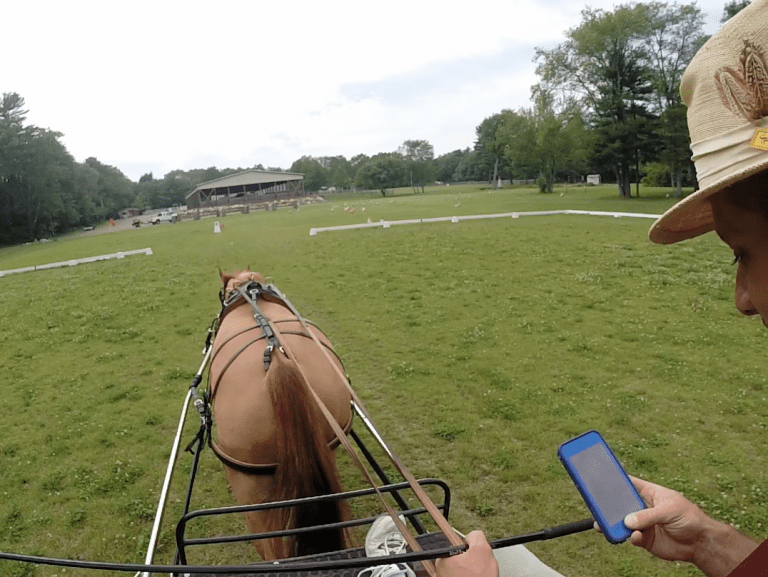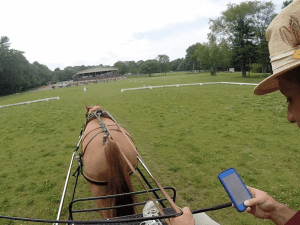 Here's a simple little thing that you can do to get started on using the most basic principle on the training scale, which is rhythm.
Download a metronome app to your phone before your next drive. Look for the simplest app to use (ones with fewer features tend to be easier to use than those that boast lots of options.) Get familiar with how to adjust the tempo so that you'll be able to change it when you're driving.
Put the metronome in 4/4 time (the default mode for most of them.) Then explore the beats per minute function. Think of your horse's walk, and try to approximate his tempo. 95 b/pm would be very slow, and 160 b/pm would be quite fast. When you think you're close, go get your pony!
While warming up at the walk, look for the most consistent walk you can get from your pony. Then, start the metronome app, and see if you can the beat to match your pony's walk as closely as possible. It wasn't be exact, because there are always variations in your horse's stride. Just get "close enough."
Once you've fallen onto a tempo you think works, stick the phone in a pocket, and pay attention to your pony. Experiment with what it takes to get your pony to match the beat on your phone. You'll need a combination of driving a collecting aids to make that happen.
The easiest place to start is by giving a half halt on every 4th beat. After a short while of that, you'll probably find that you'll need to add a forward aid such as a click. Try to time that to fall on the beat just before your half halt.
I'm not going to lie to you. This is going to be a tricky exercise! But as you practice, you'll get better. Just play around and have fun with it. You can also experiment with this at the trot after it starts to make sense at the walk.
Over several drives playing with this skill not only will you improve your rhythm with your horse, you'll open up doors to more relaxation and a better connection. You might even just find that your horse's engagement and impulsion improves the more you play with this exercise.
Imagine that? All from just playing with a silly phone app! That's the beauty of the training scale. It's all inter-related. Small improvements one area can filter through to two or three other skills.
I hope you'll join me in "The Training Scale" class to learn more!