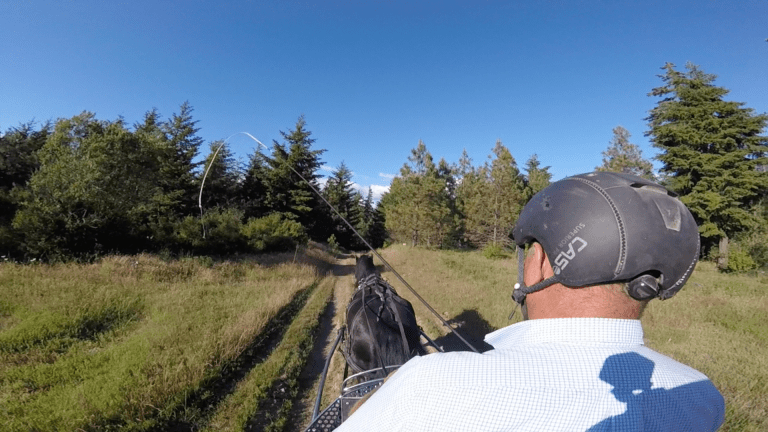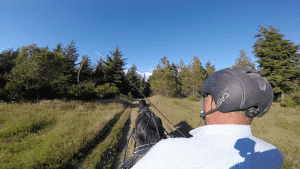 I'm just returning from my second of three trips to Washington.  Just as with the last trip, we had a great weekend of driving at the Washington State Horse Park.  This time I got to see a little more of the 112-acre park than I got to see last time.  The park's Executive Director Leslie Thurston took me on a quick tour of the Derby field and some of the East cross country course (they have two cross country courses!)  Then, to end the weekend, Will and I went out for a closer look at the trails on a long drive with Bob Wier's Friesian gelding.
The park has a huge variety of trails.  There are wide open trails that easily accommodate carriages, plus lots of smaller bridle trails, cross country jumps and trail obstacles.  The terrain is about as varied as the trails that snake through it.  You can stay on relatively level ground, or adventure upward through steep hills for fitness.  What a great place to drive!
Most of the drivers at this clinic were repeat students, so we got to pick up where we left off.  The thing that I like most about doing several clinics with the same group is that I really get to see the progress students have made between the dates.  I could tell right off that everyone did their homework between the two dates.  The progress they made with their horses and ponies was really visible!
Transitions were smoother, walks were more rhythmic, and trots were better engaged.  That gave us the chance to really refine the skills each driver was working on.  In many cases that meant focusing on accuracy, but not just for accuracy's sake.  I hit upon exactly why I wanted better accuracy from the drivers when I said to one student "Accuracy on the ground equals accuracy of communication… oooh! Someone write that down for me!" (Fortunately, someone did, and handed it to me on a scrap of paper at the end of the day)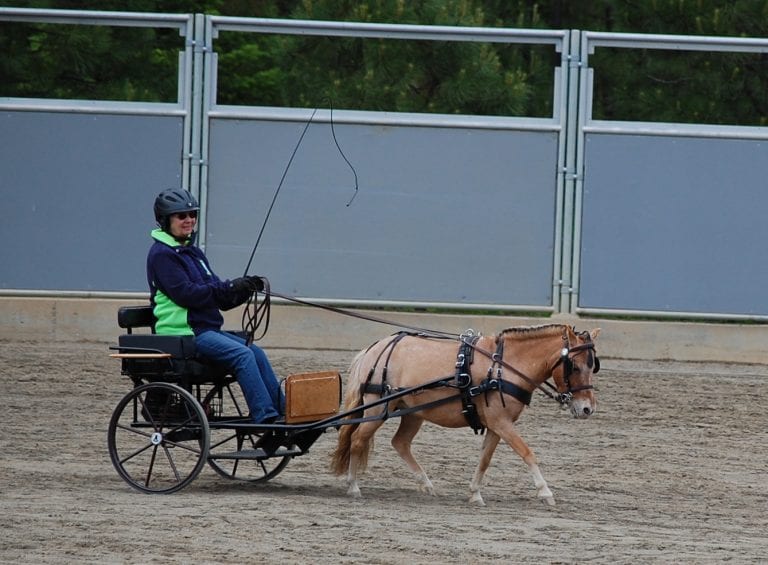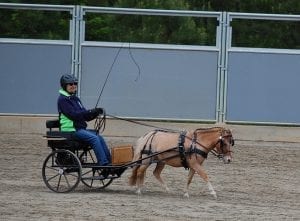 The idea behind that little gem is that the more specific you are with about what you want from your horse, the more specifically you'll communicate that want to your horse.  The fact is, for the most part, your horses aren't out there trying to avoid doing what you want.  Really, think about it:  If your horse wasn't really willing to go along with what you are asking him to do, would you really have any chance of getting him to do it?  Of course not!
So the fact that you are regularly getting your horse to go where you want to go, change his gait, and even the way he takes up that gait is evidence that he's trying to do what you want.  If it's not exactly what you want, it can usually be boiled down to one of two problems.  Either the horse isn't yet capable of doing what you've asked, or you just have not made it clear to him what you are asking for.
The latter of those two possibilities is the one that you have the most control over.  In fact, you have complete control over how you communicate with your horse.  One of the easiest things you can do to communicate clearly is to be clear in your own mind what you are trying to communicate.  That's where accuracy has a role to play.
Telling someone to "go over there" is a whole lot less specific than saying "walk to within an arm's length of the right side of that green post, then turn slightly left and halt."  You can imagine that those two communications would produce fairly different results!
Besides improving the quality of communications, we had students working on rein handling coordination.  That effort was helped along by a rein board clinic we held Saturday evening after all the lessons were done.  Will and Teresa built two rein boards with stations for 5 students at each board.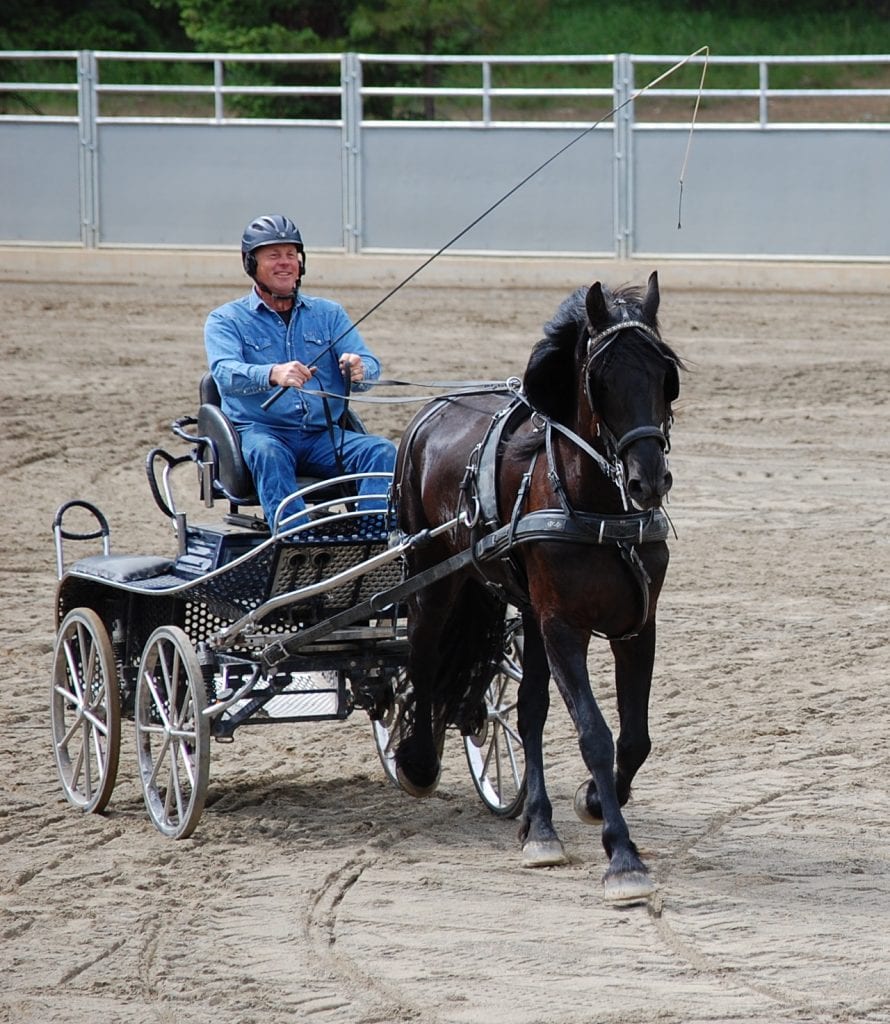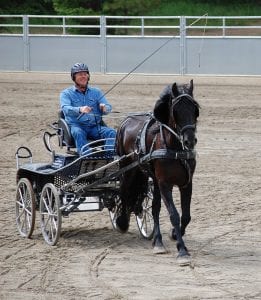 I gave a crash course in exercises that you can do at the rein board for everything from understanding dynamic contact, to handing the reins in the Hungarian and English position.  It was a bit of a haired pace since I was compressing about 4 hours of instruction into a 1-hour session.  Of course, there was a lot of silliness that comes along with that kind of class!
One of the biggest improvements we had for this clinic over the last one came in the form of wireless communication.  After years of trial and error, I've finally found an intercom communication system that really works well!  I bought three Sena SPH-10 Bluetooth headsets to facilitate communication between me and my students without yelling my lungs out.
I can't tell you how impressed I am with these headsets!  I could talk at a regular tone of voice throughout the lesson without my students missing a word.  Better yet, they could ask me questions and get answers without interrupting their drive.  On top of that, the headsets lasted for an entire day of lessons on one charge.
The addition of the instructor to driver communications made it possible to turn the P.A. system down to a level that wouldn't spook the horse but still allowed the auditors to hear the whole lesson.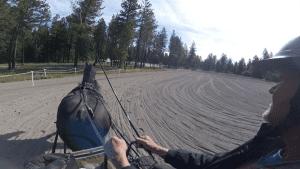 We have one more date scheduled at the horse park this for August 4th – 6th.  Since that date is relatively close to a local CDE, we're going to put the focus on getting people ready for the upcoming event.  We'll have a Dressage-Do-Over day, and a cones clinic.  I'll also bring both drivers and auditors on a guided walk of both dressage and cones courses.
If you're going to be in Washington with your horse in August, you're in luck!  There will be slots opening up in the third clinic of the series since several students from the first two dates won't be able to make that date.  Of course, if you want to come to audit, we'll certainly be happy to have you!  Please be sure to get in touch with Will and Teresa if you are interested in attending as a driver or auditor.