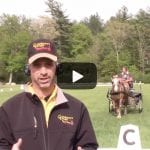 Driving corners and turns in a dressage test shouldn't be that difficult, but it's the one place that people most often get it wrong. They either drive so far from the corner that they 
Unfortunately, there's no guidance in the rulebook other than the diagrams that come with the dressage tests. Those diagrams mislead drivers into thinking that a turn should be taken as a 90-degree angle.
How you make your corners and turns are critical to your horse's balance. Attempts to make sharp corners will throw your horse's balance off and interrupt your horse's rhythm. There's a better way to approach those turns. Check out the video below to understand more. 
Subscribe to my YouTube Channel
It really just takes a little underatanding of geometry to get those corners and turns makes sense. Rather than following the crazy shapes that are drawn on the maps, take your turns as part of a quarter circle. The size of the quarter circle depends on the level of the test you're driving, and the size of the equine (more on that in the video.)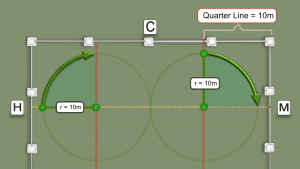 The place to start is with 20 meter quarter circles.  To drive a quarter circle, you just need to travel on an arc that's equal to the radius of the circle, in this case, 10 meters. Conventiently, the corner letters are placed 10 meters from the corner of the arena, and the quarter line is also 10 meters from the corner. So to make a nice corner you drive from the letter to the quarter line or from the quarter line to the letter. Well that's pretty easy!
To track right at C, you'll put two of those quarter circles together.  Yup, that makes it a half circle!