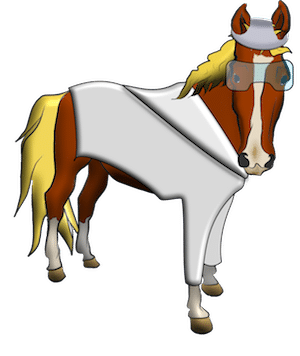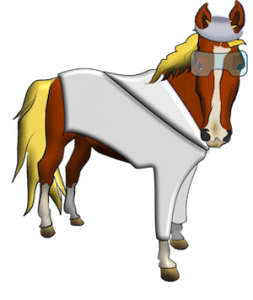 There's a pervasive syndrome that has been affecting the equine world for years, decades really. Yet it goes on, without discussion, mostly unchecked, and untreated. It's known only as GPS (Good Pony Syndrome) to professionals who can only roll their eyes as they observe it.
GPS has its roots in well-intentioned horse owners who want their horses to be happy and do well. However, unchecked, the syndrome often spirals out of control. I've witnessed GPS and its destructive effects a thousand times if I've seen it once. It affects each horse in different ways, and can even have different effects in different circumstances.
Horses affected by GPS may show the following symptoms:
Ignoring commands
Laziness
Quitting good work
Refusal to get on trailers, go into water, or stand for treatments
Confusion
Lashing out
The syndrome can be observed in a wide variety of settings and situations. The most common places that GPS can be observed are:
While working
In anxious situations
Visits from vets or farriers
Days that end in 'y'
Treatment Options:
While there is not a known cure for GPS, there are treatment options available. They include, stop calling your horse a good pony when he's being naughty. Stop telling a horse that won't get onto a trailer that he's a good horse. Don't reinforce a horse's fear of something by telling him he's good when he refuses to go near the scary feature.
How Did This All Begin?
We all want out horses to good things, and be rewarded for their efforts. So we tell them they are good when they do things right for us. There's nothing wrong with that. In fact, I encourage everyone to be sure to let their horses know when they are doing the right thing by giving a good verbal reward at the moment they are doing it.
GPS In Work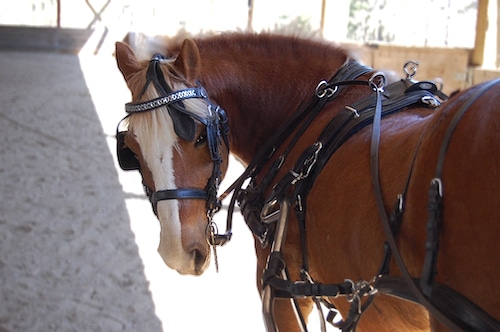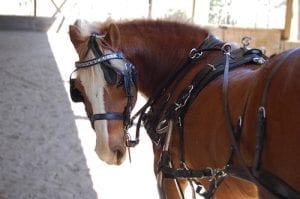 One of the frustrating places we see the effects of GPS is while the horse is in work. You finally get that bright, balanced, pretty trot, and you let out a happy "GOOD PONY"… and it all comes to an end in the next moment. The horse decides "OK, you got what you wanted, so we can stop now."
Well, it's probably not that simple. In fact, the horse usually has been programmed to respond that way by us. It's a matter of timing when we've used the verbal reward in the past. Think of a really intense workout. You and your horse are really focused and working hard. You get to the end of the exercise, and what do you say? "Good Pony" of course!
The trouble is, we all have a little habit of saying that just before or asking the horse to relax and walk. It doesn't take too many repetitions of that for the horse to make the association between "Good Pony," and "relax and walk, it's break time." So it only makes sense that the horse thinks that the verbalization means it's quitting time. (Uggh! Just when you had him where you wanted him!)
It seems that once a horse has connected these two dots, there is very little you can do to break that connection. Truthfully, it's not the worst connection for them to have. After all, it's quite handy when you really do want to settle things down and take a break.
The way around this is to come up with another verbalization to let the horse know he's doing well while working. For many horses, all you really have to do is leave off the second word. A simple, bright, cheery "Good" is enough to let the horse know he is doing well.
However, there are some horses that will shut down the moment they hear the "Goo". For those horses, you'll have to change it up a bit more. You can use different words, but more importantly, different sounds.
Horses have similar minds to babies and dogs. They recognize and respond quickly to tonal changes in verbal inflection and cadence. In other words… they like baby-talk. You can leverage that to give them alternative verbal rewards like "Ya!" Or "Nice!" In tones that are clearly meant for them.
GPS Under Duress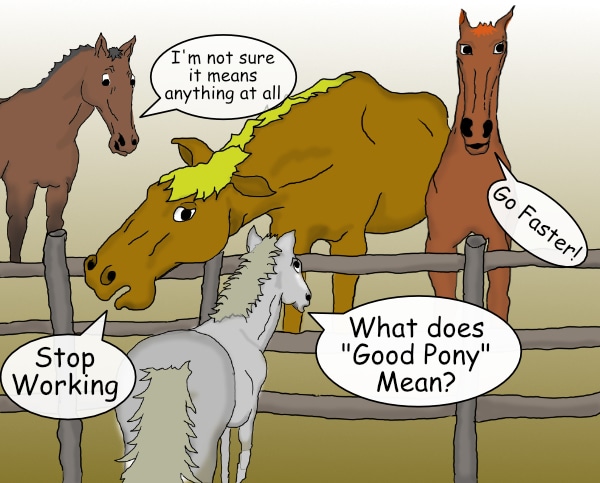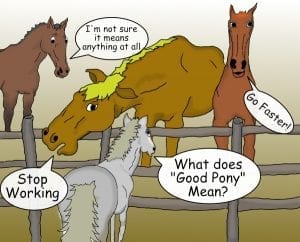 The most destructive place I see GPS is when the horse is having a problem. If a horse is afraid of something, but they soldier on under your guide, yes indeed, he is a good boy and should be praised for being brave.
However, if a horse is afraid of something, and he acts out because of it, he's not being good. Consider the things that most horses do when they are afraid. Their head goes up, the back tightens and the heart rate rises. They often jig in place, spin, or even try to bolt in the other direction. Do any of these things sound like something that you want your horse to do?
Think about it. "Good boy" is a term of praise for a something that the horse has done right. Now, here you are in a very anxious situation, and you're praising him for being fearful!
In situations that I'm trying to get a horse past something frightening, I prefer to give words of bracing encouragement. I use a tone of confidence, sometimes commanding, other times coaxing. I may say, "You're OK, you're fine, trot on."
If the horse is doing something I don't want, I let him know. If he's trying to break pace, or turn away I tell him "NO" with a sharp tone. As the horse takes my corrections and moves where I want it, I give it a bright cheerful, "Yaa!" When it is all over, and the horse has done well, I give the great big "Good Boy!" several times over.
Just Plain Rotten
The same holds true for a horse that is being just plain rotten because he wants to be. Some horses wake up on the wrong side of the stall that day, and they just don't want to play our silly human games. That's when it's most critical to hold your praise for praiseworthy behavior.
Once again, I let the horse know clearly when he's giving me an undesired behavior. My voice is sharp and stern each time the horse tries to make his own rules for the day. On the other side of the coin, however, I'm especially bright when the horse does something right, whether he meant to or not! I often wonder if they're cursing me in their minds when I catch them doing something right when they're in a bad mood.
You Have The Power
Good Pony Syndrome is something that you have control over. You're the one in charge, and you're the one making the decision when to administer your verbal rewards. Used thoughtfully, a "Good Boy" can help you and your horse progress in your training. However, if you carelessly throw the words out at every corner, you're giving up a valuable communication tool. It takes a little bit of practice, but you too can overcome GPS.
** ~ Side effects may include a happier horse that actually knows what the heck you want and when he's done something right.