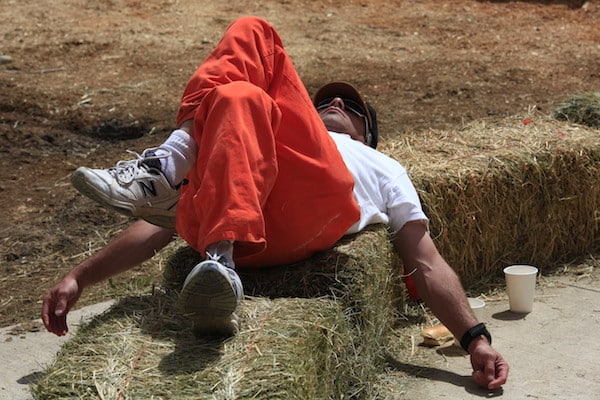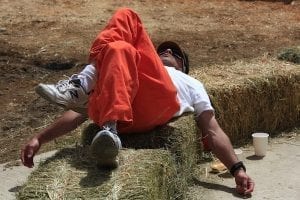 From time to time in a conversation or in writing I refer to my "Horse Trainer Lifestyle." It's a handy little phrase that can be turned in just about any direction I need it to. Of course, I'm kinda sarcastic, so it's often used that way. It's my version of the popular phrase "Livin' the Dream."
Since I've been using it as a hashtag on my Instagram posts, and in other places, I've had a few people asking what exactly it means. I can't really sum it up in a few words unless I just dismissively say "I've seen some things."
That's not enough for some people, so I thought I'd share some stories of what #horsetrainerlifestyle really entails. After all, sometimes I get tired of teaching, and just want to spin a good tale. So here's the first installment.
We'll start with the inspiration for the hashtag.
#HorseTrainerLifestyle Chronicles – The Road Less Traveled
The year was 1990, and I had just barely graduated high school, and I had to figure out what to do with my life. I went to a school that sent nearly every student onto to college, and some pretty good ones at that.
That wasn't me. I didn't have a college fund waiting for me, and I wasn't going to spend tens of thousands of dollars a year to figure things out. I did what a lot of people should do when graduating high school. I went out and worked.
It was pointed out to me that finding out what you don't want to do in life can be as valuable as finding what you do want to do. So I went about figuring out the things I didn't want to do in between days of windsurfing.
I was working for sporting goods department store, with my feet on the rungs of their corporate ladder, and hating every minute of it. I figured out that I really didn't like wearing ties, cooperate structure, and most people.
The closest I got to something lighting my fire was taking some continuing ed in animation, but spending hours inside to make seconds of film was discouraging.
What About Horses?
I'd had fallen away from the horse world through my high school years, but I remembered I really liked it when I was a kid. So I started canvasing barns, literally just walking in off the street asking if they needed help.
I ditched the sports job, benefits, and a good chunk of my paycheck for a barn job in Concord, MA. It was a boarding & training facility with a mix of jumpers, eventers, and dressage riders. It was a bustling barn with some pretty high-end horses. The price to board one horse there was pretty close to what I earned in a month!
The horse owners were clearly successful people in their non-horsey lives. On top of that I got to meet vets, farriers, massage therapists, chiropractors, and all kinds of the other practitioners. 
I thought that this was the perfect place to get ideas about what the hell I was going to do with my life. The nice thing was that I was 18, so everyone was willing to give me their ideas!
At that point in life, I was pretty much just a wise-ass, green… hack. I could handle a horse, throw hay, and get stalls done. But I kept my ears open, and took it all in. I learned whatever anyone was will teach me, and quickly became fascinated by everything that went on there. I was becoming enthralled.
One of the most profound observations I made was about the almighty work/life balance, especially among the horse owners. Almost every one of them would have chosen to spend countless hours with their horses at the barn if they could, but it just wasn't possible.
Not only did they have some pretty demanding jobs that ate up lots of their time, they had their families and friends competing for their time as well. The horse thing was something they had to struggle to get their own time for.
So I started to see the formula like this:
Get a good education ($$$) to to land a well paying career (no promises.)

Bust your ass building that career.

With a little luck, you might become successful enough to own a horse or two.

Beg, borrow, and steal enough time from work and social obligations to enjoy said horses.
I found it really ironic that I made a pittance of what these people made, yet I got to spend all the time in the world with their horses. By the time I had made this observation, I was pretty sure I wanted horses to be a part of my life for the rest of my life. But, I was no great student, and I didn't have many prospects for a high-earning career on my horizon.
An Alternate Path
I started to see an alternate path. If I was making a living with horses, I'd get my horsey fix filled, and still have time for not only social obligations, but other fun things in life as well (I was a bit idealistic, but that's how we should be at that age.)
I floated this idea by the barn manager. She remained defiantly neutral on the subject. She was quick to point out that I wasn't going to get rich working with horses, and I would probably always give more than I would get in return.
When I said I was ok with that, she pointed out that I'd need to be something more than a grunt if I was going to make a living. She gave me some advice on becoming a professional in the sport.
Then she told me something that I will never forget.
"Just understand, if you're going to do this, you're not making a career choice, you're making a lifestyle choice."
It was both a warning, and a "go get 'em slugger" wrapped into one.
I guess that was my "Road Less Traveled" moment in life. Now, if you're about to fill your head with all sorts of romantic ideas about the horse trainer lifestyle, you might want to read that poem a little more closely. It may not mean what you think it means!
I'll leave you with the words of Robert Frost to consider until next time I feel like I need a break from my typical writing.
The Road Not Taken
Two roads diverged in a yellow wood,
And sorry I could not travel both
And be one traveler, long I stood
And looked down one as far as I could
To where it bent in the undergrowth;
Then took the other, as just as fair,
And having perhaps the better claim,
Because it was grassy and wanted wear;
Though as for that the passing there
Had worn them really about the same,
And both that morning equally lay
In leaves no step had trodden black.
Oh, I kept the first for another day!
Yet knowing how way leads on to way,
I doubted if I should ever come back.
I shall be telling this with a sigh
Somewhere ages and ages hence:
Two roads diverged in a wood, and I—
I took the one less traveled by,
And that has made all the difference.
~ Robert Frost, 1916