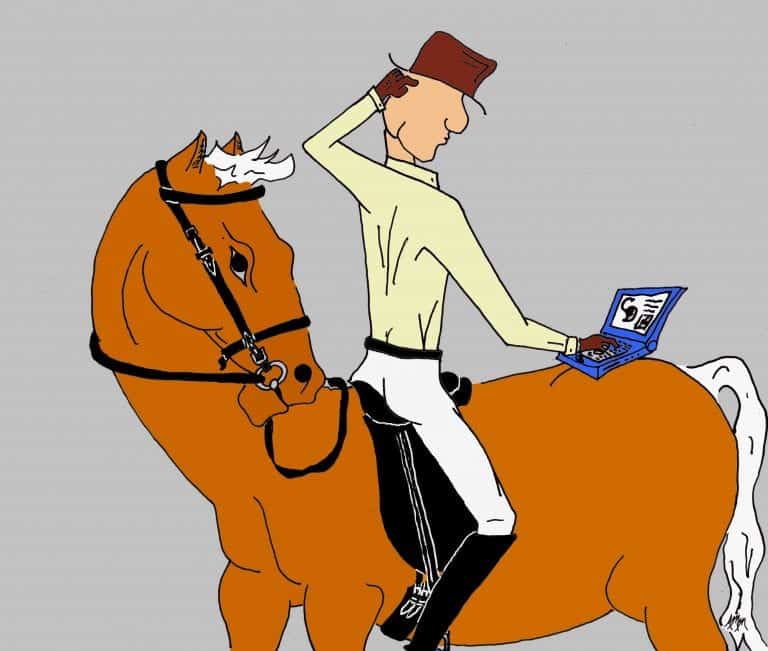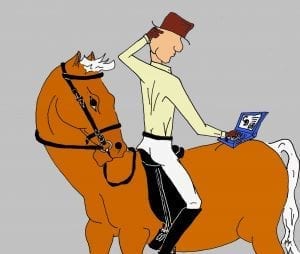 The most difficult thing about creating lesson plans is making sure that I explain the movements of the exercises as clearly as possible.  To be honest, that can even be challenging when we're together in a one-on-one lesson in person! At least in that scenario, I can use as many words as it takes, point, and if all else fails, just go ahead and drive the figure for you.
When I'm writing a lesson plan for you to follow on your own, I'm always trying to find ways to make it easier for you to understand. That's why I so often use the waypoints of a dressage arena to describe the figures in exercises.
I'm not expecting anyone to memorize the letters of the arena. Honestly I'm not very good at that myself! I often have to look at the letters when I'm giving instruction to be sure I'm sending my student off in the right direction. The letters of the dressage ring just make it much easier to explain where I want you to go.
Asking for a walk transition "at A" is much quicker than asking for a walk transition "at the center of the short side of the arena."  Those letters also make it easier to be concise with the instructions. If I ask someone to "change rein on the diagonal, K-X-M," it helps us stay on track with which way I want them to be going as they make a change of direction.
The Places in Between
Unfortunately, those letters only get us so far. There are times when I want you to use a place in the arena that doesn't have a letter associated with it. Still, I have to find a way to describe that location in as concisely as possible so you can make use of that instruction.  I usually come up with my own little shorthand, but I never really know if people are able to make sense of it when they print their lesson plans out and bring them to the barn.  So I thought I'd just ask you what makes the most sense.
I'm working on a new lesson plan that uses a waypoint that lies at the intersection of the quarter-line, and the line between B & E. Take a look at the picture to help you put that waypoint in your mind.
There's no letter there, so I came up with a few possible abbreviations. Vote for the one that you like best, and that's what I'll use on the next lesson plan.
Memorizing the Letters
Since I know you're going to ask after reading this, question in advance: I don't.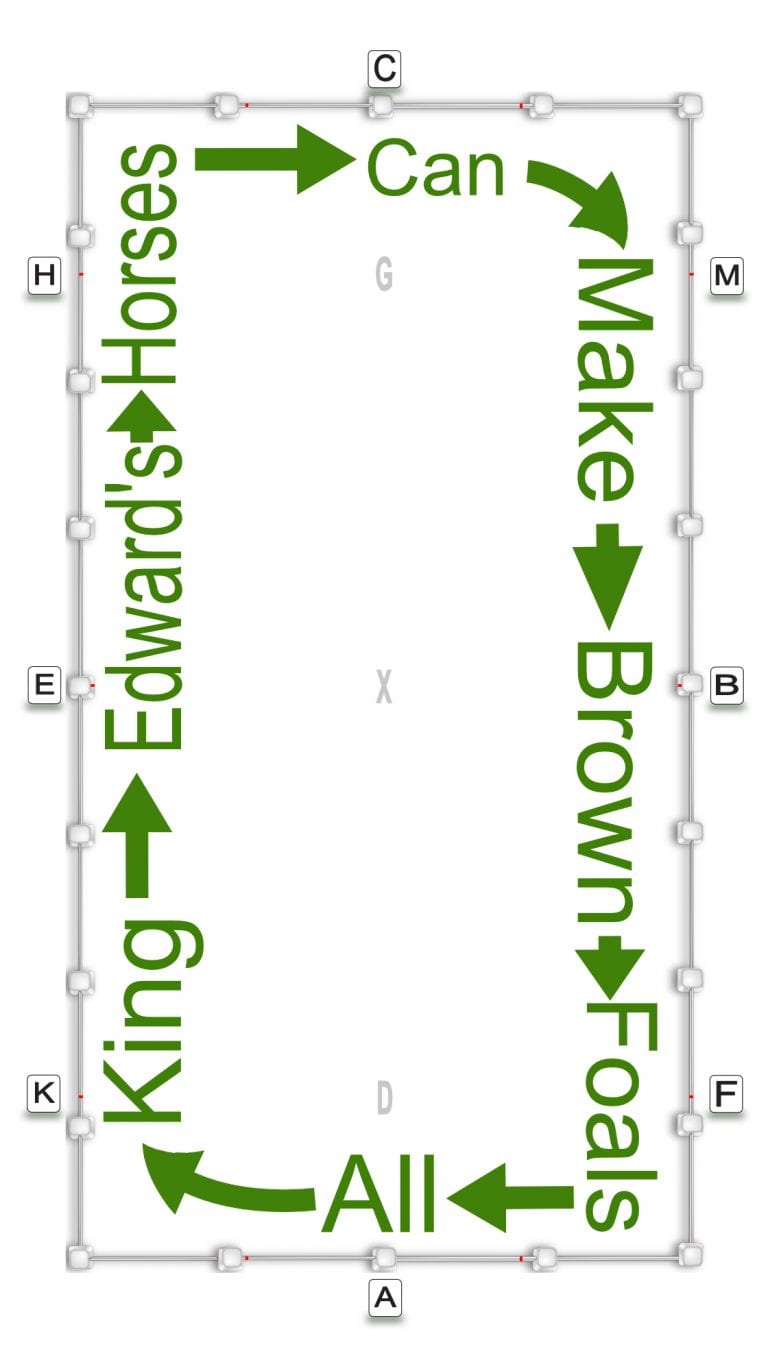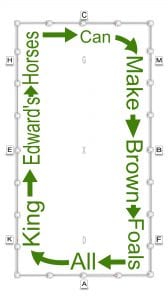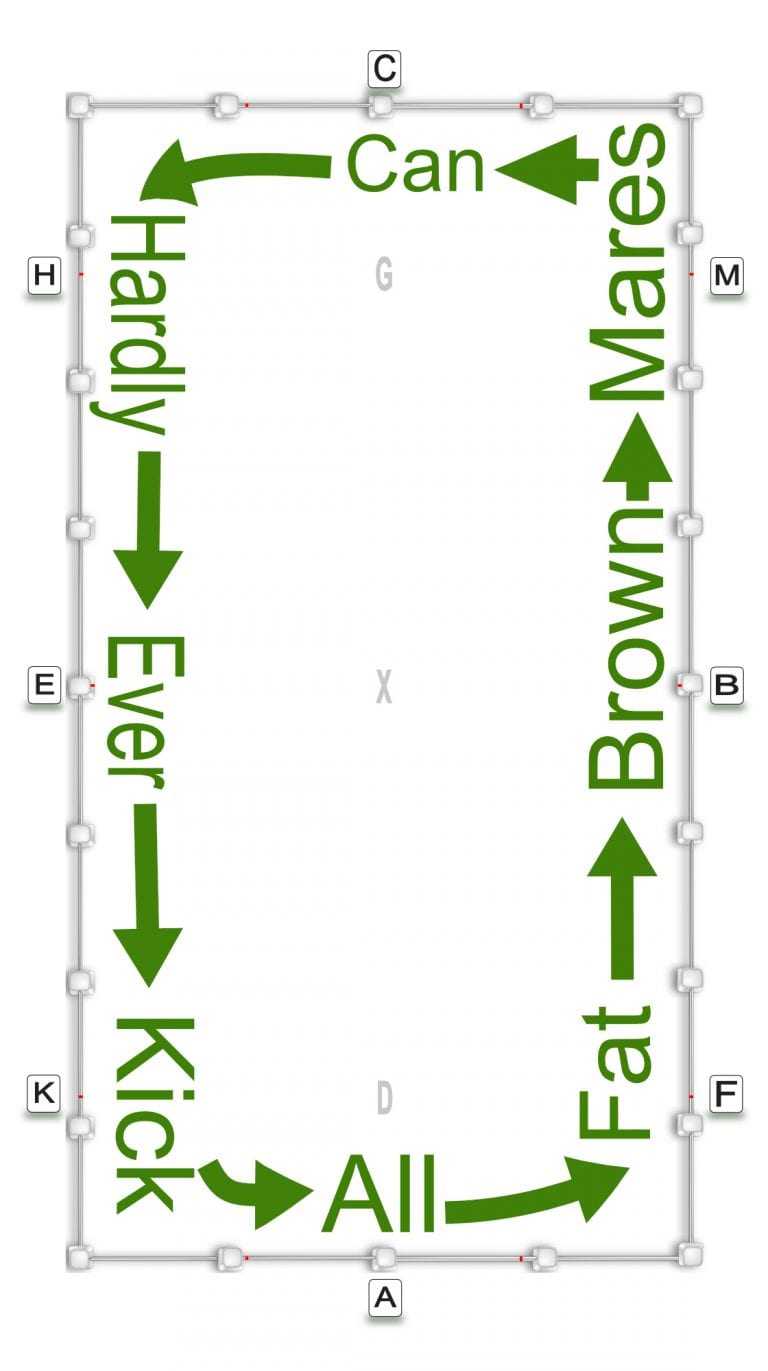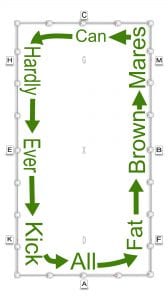 The obvious question was, "How do you remember where the dressage letters are?"
I've never been able to memorize those letters!  When I have to put out letters in a dressage ring, it's a struggle. I usually start with what I know, which is that the diagonals are K-X-M (toward C), and H-X-F (away from C.) I've always had C in my mind, since that's pretty much the first focal point when entering the arena. For some reason I've always just known that M is to the right of C if I'm headed up the centerline.  So that gets the corners, and the centerline sorted.  When it comes to B and E, I'm pretty useless.
The centerline letters were a challenge for me, until one day a dressage lesson took an… unexpected turn. I was teaching at an equine exposition (think, family event!) The lesson had to do with preparing for transitions. As my student was barreling up the centerline, it was clear she was going to blow right past the spot I had placed for her to halt her pony on between M and H. I started carrying on, in my usual, silly, animated way, about how she needed to prepare to hit her G-spot. I think I referred to that about 6 or 10 more times in that lesson before I could actually hear what I was saying. I'm not sure if I ever got invited back to that venue, but now I always remember where G and D are on the centerline!
So how do I get around a dressage test?
For me a dressage test is a series of shapes and sizes, rather than letters. Reading the text of the test I first look to see which way the test "tracks" in the column labeled "test."  That gets me going around the ring in the correct direction in my mind.
Then I focus on the gaits and figures. I read the directions in the test for the gait, then the description under "Directive Ideas." That gives me a feel for the flow of the test, and what the important points are that the test will be judged upon. I know that the ring is 40 meters wide, so a figure that's 20 meters is half the width of the ring (10m = 1/4, 30m = 3/4.)  From that, I build the map in my mind, then use the map provided with the dressage test to confirm what I just imagined.
Thanks!
Well, this has been a fun little trip of over-sharing.  I hope it was good for you!
It all started with wondering which way to write a lesson plan for you, but got a little out of control after that.  I guess this is what happens when the sun hides for too long and we can't drive our ponies as much as we want. Feel free to over share your stories about how you remember your dressage tests in the comments below. While you've got some time on your hands, check out what's available for classes, or read some more blog posts just for fun.