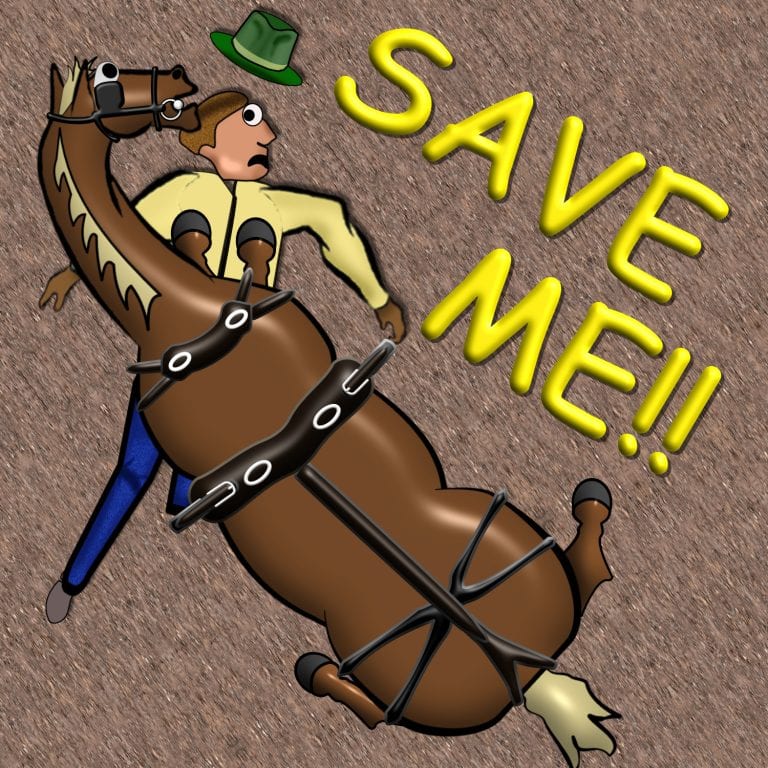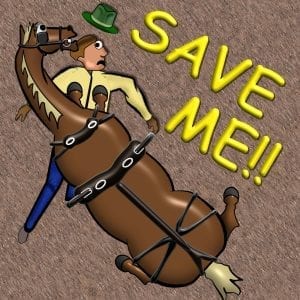 It took less than 20 seconds from start to finish, and I'll spend the next 6 weeks feeling these 3 reminders daily:
Sometimes, shit can go wrong faster than you can move.
Horses, even small ones, are exponentially larger than we are.
No one is above the previous two conditions coming together and putting you in your place.
What Happened?
Actually, not that much. I was helping a friend hitch a large pony, and he had a spook at an awkward moment. Things got a little dicy for a moment or two, he stopped, we unhitched, and he was fine. As I say, it was about 20 seconds of "shit, shit, shit" then, "Ok, we're good."
I then asked another friend who was busy loading up her trailer just outside the arena to call an ambulance.
Janet: "You want me to call an ambulance?"
Me: "Ya, call an ambulance right now please."
Janet: "For who?"
Me: "Me"
Janet: "Wait, are you serious? (in an incredulous tone) You really want me to call an ambulance to come pick you up right now?"
This conversation may have actually had one more round, I don't quite remember. In Janet's defense:
She hadn't seen what was going on in the arena. She only heard a momentary scuffle, and when she looked over, everything appeared to be well in hand. The pony was unhitched and standing, nothing looked particularly out of order.
I was standing up, calmly walking around, and talking slightly above my breath. She had no idea that I was keeping myself moving to be certain that I wouldn't pass out or seize up, or that I was using such a quiet tone because one of my lungs was partially collapsed and in reality I was talking as loud as I could.
For me, this was just the beginning.
Wait, What Really Happened??
If I've said it once, I've said it a hundred times: Hitching and unhitching are the riskiest moments in your drive. It's during that moment when your horse is between hitched and unhitched that if things get weird, they go south quickly.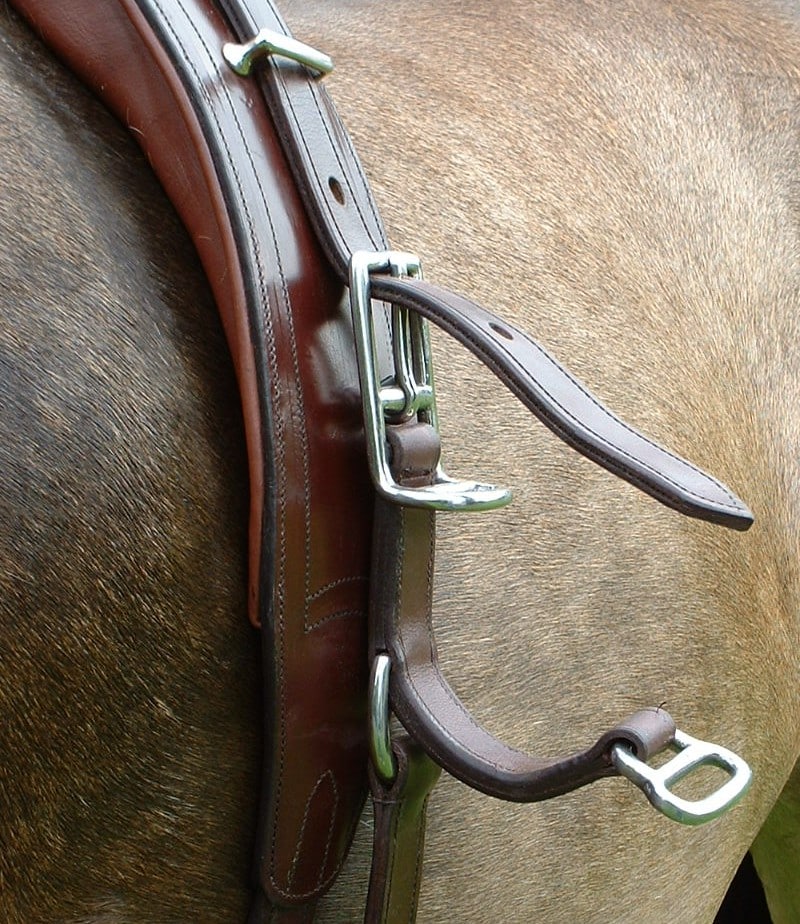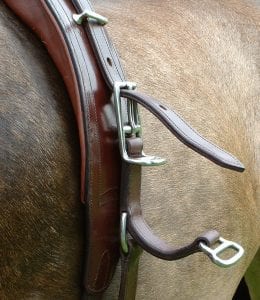 When one shaft was fixed to the harness, and the second shaft was coming into place, the pony heard a pony devouring demon somewhere nearby. Naturally, he decided to take evasive action. He only got about a step ahead of me, but that was all that it took.
I stopped him quite firmly and quickly, but with just one shaft attached, the carriage was out of sync with the pony. When he surged the carriage lagged behind, dragging from the harness awkwardly. When he stopped, the carriage was still mid-surge.
The push-pull action escalated the pony into a little bolt. We stuck together for a dozen yards or so, but then found ourselves among parked carriages, chairs, cones, and other stuff. I tripped just as he leaped, I went down as he went up.
I remember being pissed about finding myself in the one place I didn't want to be with no room or time to maneuver. I looked up from my back as the pony was returning to earth from his leap, also with no time or room to maneuver. His front feet planted on my chest as if he was trying to give me CPR.
There was snapping and popping, but not nearly as painful as you might imagine. As he scrambled off of me, I could see that he was going to do me one more favor by dragging the carriage over me (comparably less painful than a pony landing on me.)
I stood as soon as soon the carriage was passed. He carried onto his "safe place" in the arena about another 10 yards away, stopped and stood. We popped open the tug, releasing the tension on the harness, and he just stood for moment. It was over… Well, for the pony anyway.
Time to Reflect
Ironically, this is the first time I've been seriously injured while working with horses. Sure, I've had my share of bumps, scrapes, and bruises. I've been stepped on, thrown, kicked and bitten, but never seriously enough to spend a night in a hospital.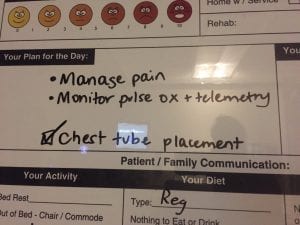 Well, I got 5 nights, and 4 days to reflect on this. There was some Monday morning quarterbacking going on in my mind. What could have prevented this, what had I done wrong, and how can I keep this from happening again?
In any such incident, there's seldom just one thing that lead to the problem. It's usually a combination of triggers that stack one on the other. Every person and pony has their "Tilt" limit, and once those triggers stack up over that limit, things tend to go sideways.
There wasn't much to point to in this instance. This was the pony's second work session for the day. He ended his morning session in a great place, with a great attitude. Likewise, he arrived to this session, calm, relaxed, and ready play silly human games again.
The main factor really comes down to the pony being young, inexperienced, and not very brave. Those factors have to be treated as triggers that have already been put into the stack. That leaves even less room for other triggers to enter the equation without going over the pony's tilt limit.
So, while appearing to be calm and quiet, he must of still been harboring some heavy anxiety. A simple sound outside the arena when paired with a touch while hitching was enough to induce his flight mode. To his credit, he did return to his senses pretty quickly. It just would have been nice if he had done so before I tripped!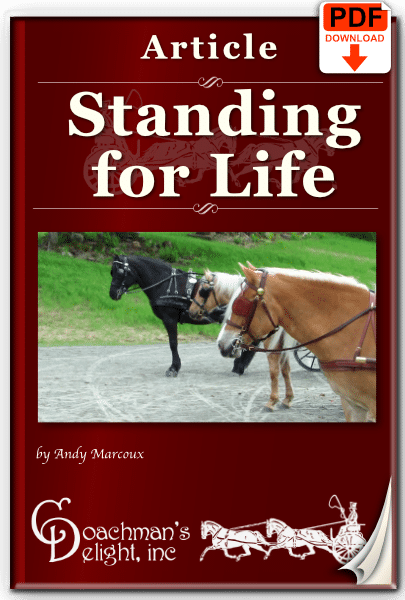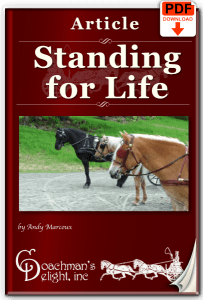 So the remedy is more time and experience for the pony. He'll need some extra time standing, getting brave, and probably a third set of hands on the ground for hitching. Of course, since I'm now on the injured reserve bench for a spell, he'll get that attention from another professional. 
No, he's not ruined as a driving pony. He probably isn't even thinking of that scary moment as something specific to carriage driving. Despite the fact that it was a really bad outcome for me, he probably was more concern that he landed on me than he was with the carriage (as evidenced by his halting afterwards essentially on his own.)
Experience
Experience is what you get when you were expecting something else, and there have been many times when I was expecting something else! The important thing is learn from those experiences, and find new ways to screw things up!
Incidents like this are relatively few and far between in my practice these days because of that attitude. You don't have to repeat the past if you can learn from it the first time. You don't have to be afraid of things going wrong, if in the end, you'll have more experience.
Ya, sometimes you get hurt along the way… boo.
As for me…
For the time being, I'm resting uncomfortably at home. Life isn't too bad other than the fact that a sneeze causes thousands of flaming demons to rise from within to shred and tear my body to pieces from the inside. Note to self: stifle sneezes.
Broken ribs have a funny way of letting you know just after you've made a movement they don't approve of. This too shall pass.
I'm certain that I'll be teaching long before handling the reins as I return to pony life. Sitting at a computer is more challenging than I expected, so the online class schedule has been set back a bit. In the mean time, there are quite a few past classes to revisit here.
I'll have something new for you to chew on soon enough. Go enjoy your ponies! Just remember, they're faster than you think, bigger than you think, and you're not always going to come out on top.