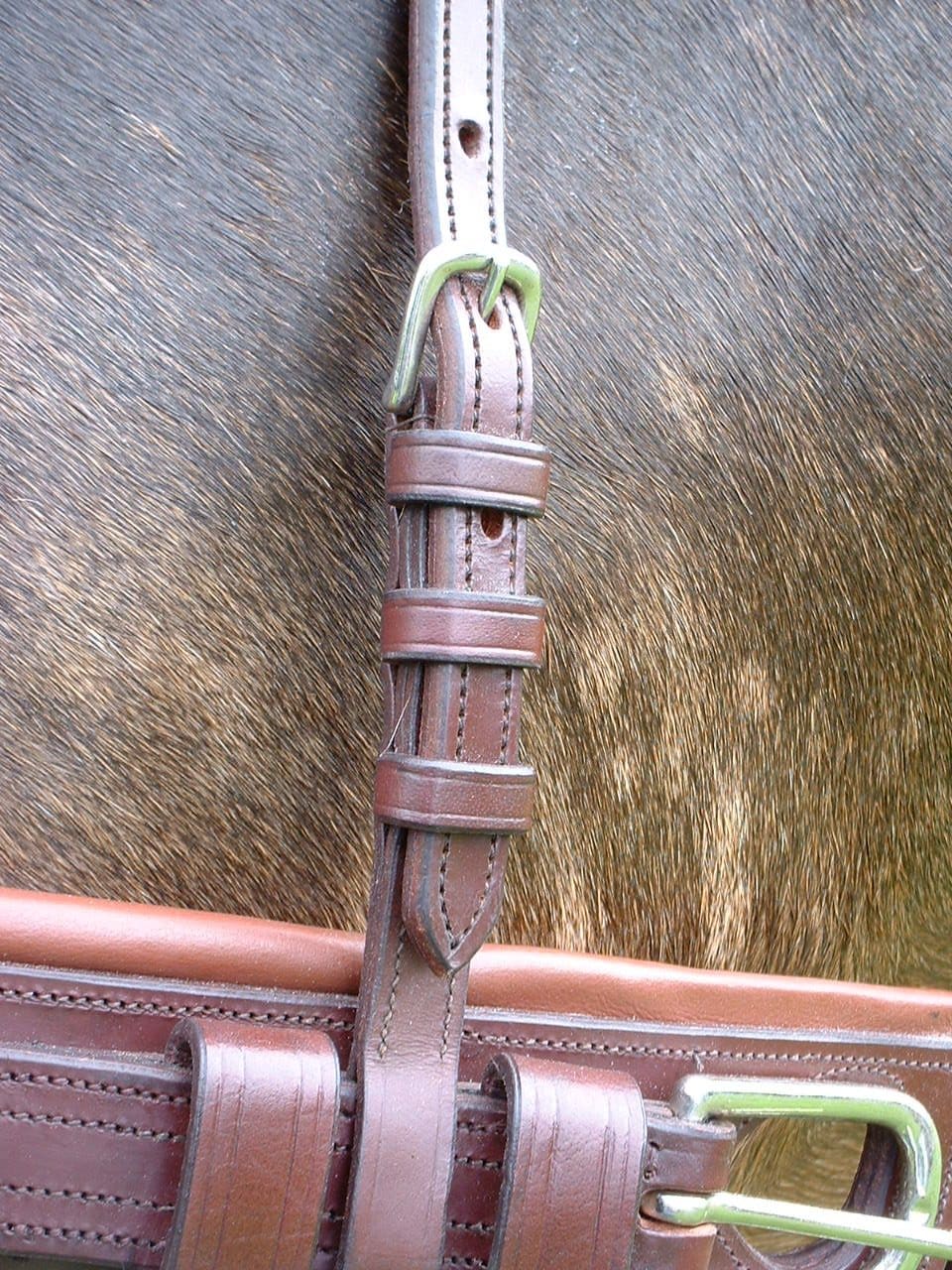 The debate over leather versus synthetic harness has carried on since the first synthetic harnesses hit the market. In the beginning, there was no question, a leather harness was the way to go. Synthetic harnesses have come a long way in the 30 years, making the decision less cut and dry. I know you'd love an article that would tell you decisively which one is best, but it just isn't that simple.
What Do I Use?
The decision to use leather or synthetic harness is purely a personal one. In my personal tack room, there are harnesses made of both materials. When I was competing regularly I had a very nice synthetic harness for the marathon, and an equally good leather harness for dressage, cones and ring classes. It wasn't a "show harness", but rather, a well-built harness that could be polished up well enough for even the highest level of competition.
When it came to day to day training, it was the leather harness that did most of the work.That's contrary to what most people would expect to read. While both harnesses were well-built harnesses, and fit my horse just fine, I used the leather as my everyday harness. The fact of the matter was, the leather harness simply formed to the contours of my horse better.
As you would imagine, getting that leather harness in show shape was more work before an event than had I chosen to use my marathon harness as the daily driver harness. I'm not a lazy person, but I will take any opportunity to do less work for the same results. I must have had a very strong feeling that the horse worked better in the leather harness to feel the extra work of getting that harness cleaned up was worth it.
That's just my personal experience. I have many friends who swear by their synthetic harnesses and want nothing to do with owning a leather harness ever again. They enjoy that many synthetic harnesses are often lighter than leather harnesses and are easier to clean. They feel less guilty when the harness gets soak, muddy, and well just trashed after a wet weekend.
When you are shopping for a harness, the most important consideration is harness fit. It must fit your horse well to serve your horse well. After that, you have to consider your own needs. What do you think you will use the harness for the most? Recreational driving can be accomplished with either type of harness. Pleasure showing doesn't require a leather harness, but you likely be less self-conscious if have one. Combined driving enthusiast tend to lean toward synthetic harness.
Leather Harness
If the look and feel of the harness are the most important considerations, then leather is certainly the way to go. A leather harness can get beat up, dragged about, soaked in the rain, and with a little elbow-grease, can come out looking like the belle of the ball. In fact, over time leather harness begins to look better with repeated use, cleaning, and polishing. My old competition harness has been out in every kind of weather and run through muck and mire. It's been on many horses through many years. Yet when I clean it up for a pleasure show, it's the envy of many.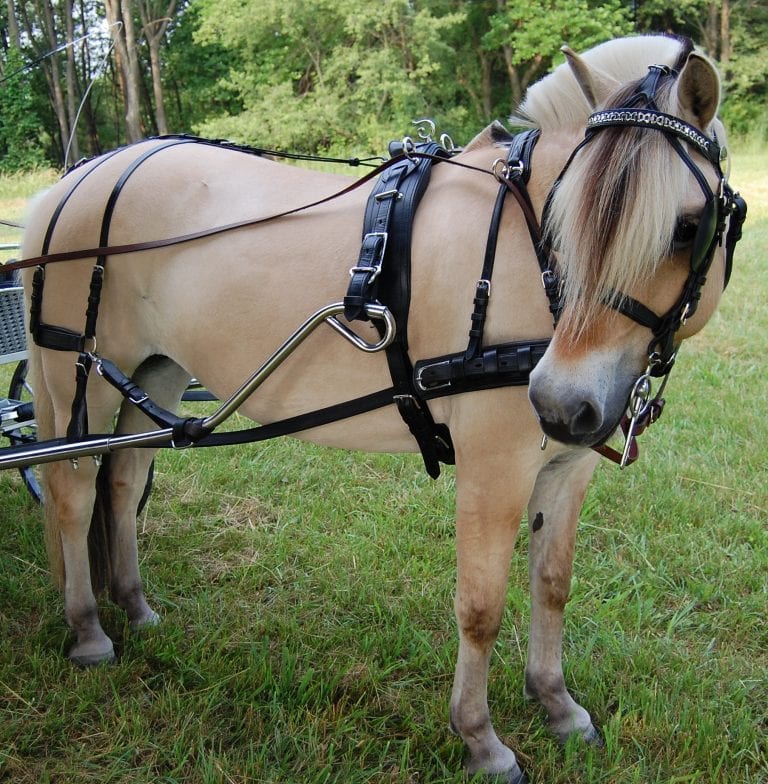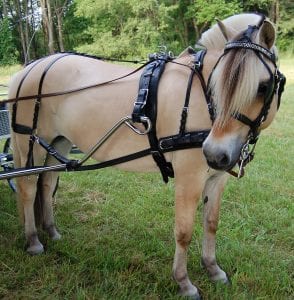 Maintenance of a leather harness does require a bit more care than a synthetic harness. We'd all love to have the time, energy and fastidiousness to clean our harnesses after every drive, but most of us don't. It is important to clean and condition the harness with some regularity. Annual maintenance and regular cleanings help preserve the leather's strength and pliability.
Leather left unused and unmaintained for long periods of time can mildew or dry out. This can lead to the leather becoming brittle and break down. Some harnesses seem to be more prone to this problem than others. Certain leather tanning processes reduce the chances of mildew growing on the harness. The good news is, leather is incredibly resilient. I've taken 20-year-old harness early recognizable under crusted mildew and brought them back to life with a little hard work.
At the opposite end of the spectrum, Many people suffer under the delusion that you can't get leather wet. Leather is a far more resilient material than we give it credit for. Most leather harnesses are made from leather that can withstand significant use and abuse. In fact, many drivers use leather harnesses for CDE marathons in which the harness is guaranteed to be doused with water at a cooling station.
Certainly, leather harness will absorb water, especially if you're out driving in the rain for several drives in a row. However, it will also release much of that moisture given that you put in a place that it can dry (rather than leaving it in a box for a week after a trip.) Once dry, the harness can be returned to its former beauty with a little bit of care and maintenance. Sure, it's one more step than you have with a synthetic harness, but it's not a death sentence for the leather harness.
Perhaps the biggest advantage to leather is the fact that it breaks-in to your horse. Over time and use the leather forms to the contours of your horse improving the fit as it ages. Leather also remains pliable through a broad range of temperatures. Handling a leather harness for a sleigh rally in sub-freezing temperatures isn't much different to handling it on a 90-degree day with 80 percent humidity.
Do You Have to Have Leather for a Good Score?
Those who buy leather harnesses often site that they feel that they will get much better scores on presentation at a combined driving event.
While it's true that it's hard to beat the look of a good leather harness, it may not be the difference between a top score and runner-up. If you are going to a highly competitive pleasure driving show, a synthetic harness will not win you any favor from the judge, but there are many other factors in placing a class. Each class has it's emphasis whether that be in rein handling, the horse's way of going, or the presentation. Even in a presentation class, I've seen drivers win with synthetic harness put to a very modest carriage win simply because they had the proper fit, cleanliness, and presentation of the turnout.
In combined driving, most of the presentation scores are given "on the move." In other words, the judge, sitting 20-30 feet from the ring, gives a presentation score while scoring the rest of the dressage test. With the better synthetic harnesses that are available today, it can be pretty hard to see if a harness is leather or synthetic. There is also no prohibition to using synthetic harness in combined driving.
Synthetic Harness
Today's synthetic harnesses are better looking and feeling than they have ever been. The quality of the materials have improved significantly over the past few decades, and there are more options than ever for synthetic harness. They tend to be lighter than leather harnesses, and they are certainly easier to clean (but they still must be cleaned!)
Synthetic Harness is not "Maintenance-Free"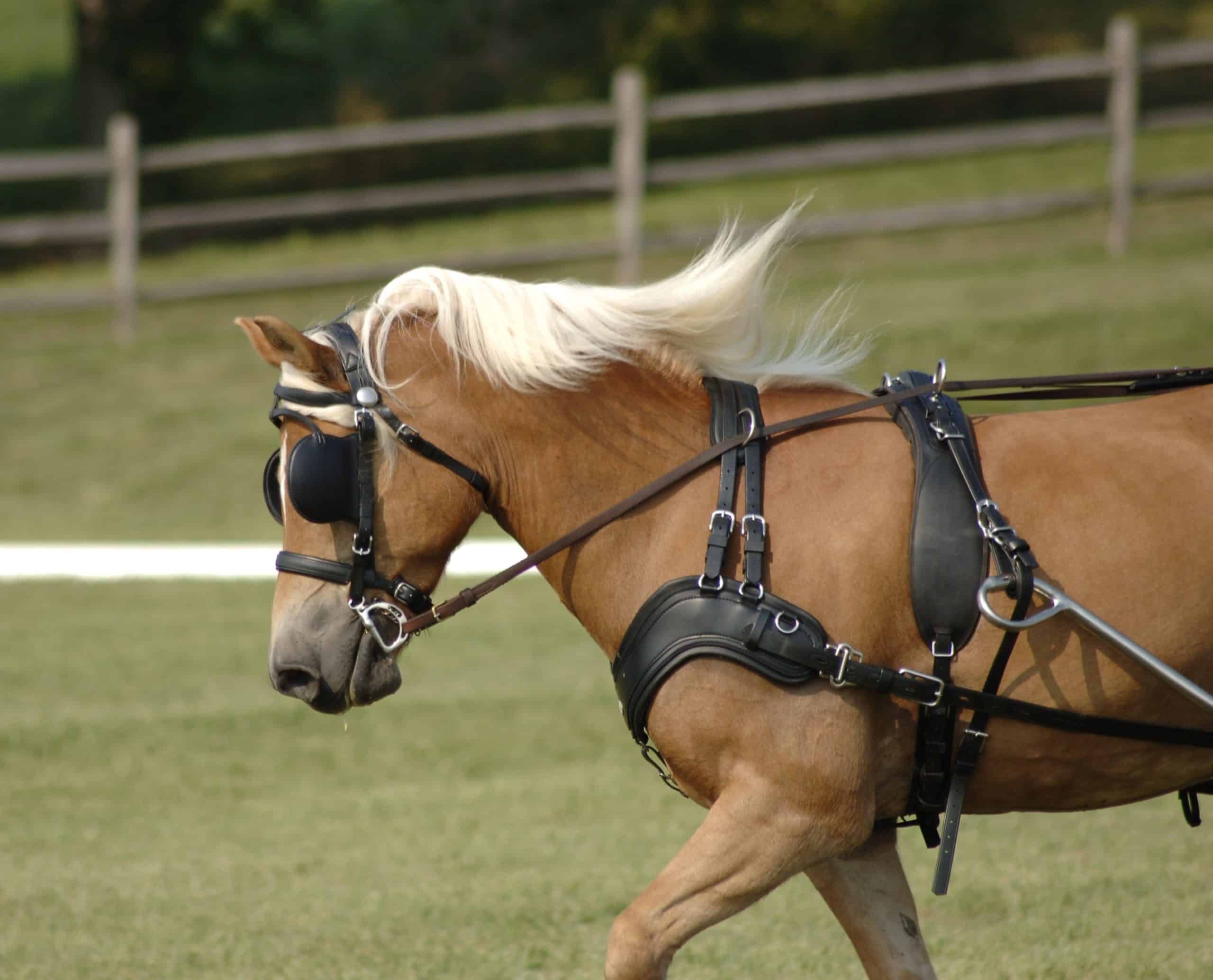 The biggest reason people site for buying synthetic harness is that they don't want to clean their harness. This argument has several problems. Two of the main reasons behind cleaning harness have little to do with the material it's made out of. Cleaning a harness takes away dirt and dander that builds up on the bearing surfaces of the harness that can cause discomfort and rubs on your horse. The second big reason for cleaning harness is that it gives you a chance to handle the whole harness and all of its parts to spot breakdowns before they become a safety issue.
"Ya, but I can just hose my harness off, or dunk it in a tub."
I'm sure that if you asked a 13-year-old to wash your car, and all they did was hose it off, you wouldn't be thrilled with the results. Simply getting a harness wet doesn't remove the dirt, grit, and other contaminants that lead to harness breakdown. You still have to clean a synthetic harness with soap, water, and a sponge or cloth. It is still a little easier job than caring for a leather harness, but this step can't be overlooked.
Of course, synthetic harness will only look as good as it did the day that it was new. That's not all bad since there are harness makers producing some very good looking synthetic harnesses these days. However, it's appearance will never develop into something it was not when it was new. As it ages it simply begins to look older as opposed to the more "experienced" patina of an older leather harness.
Unlike leather harness, synthetic harnesses never really breaks-in. Some harnesses soften slightly over time, but the nature of the material is to return to it's cast form. The material is also more subject to changes according to the temperature than leather. On cold days, the strapping becomes very stiff and difficult to work with. On hot days, it becomes soft and pliable, in some cases to the point of being flaccid.
Which One Will Last the Longest?
I've seen harness of both types either last for more than 10 years or breakdown within 3 years. Both leather and synthetic harnesses suffer similar breakdowns for similar reasons. Poor quality leather or synthetic material will break down more quickly than the good stuff. Wear and tear on the strapping, buckle holes, and flexures occur at similar rates from one material to the next.
As with all equipment, good care and maintenance is the key to getting the most out of the life of a harness. Give it a good cleaning and inspection once a year, fully disassembling the harness when you do. Follow that up with regular light cleaning throughout the year. Store it on a harness or saddle rack away from the dirt, dust, and debris of the barn isle. When you carry the harness out to the horse, pick all of the pieces up off the ground, rather than allowing them to drag on the floor.
Quality Materials Make Quality Products
In the early years of synthetic harness, the choice was clear. There wasn't a synthetic option that could even come close to the quality of leather harness. The only advantage that synthetic harness offered was that the price was significantly lower.
Leather is and always has been more broadly available than synthetic strapping. Of course, with that comes wider variety of types and quality of leather. Most harnesses today are made from either cow, or buffalo hides, but the hide is just the beginning. The tanning process probably has the most profound effect on the quality of the leather.
When I was growing up in the sport, most people equated the country of origin with the quality of the leather. American leather was considered the toughest, while English and Italian leather were considered the finest. "Indian" leather (which was leather produced in any number of Asian countries) was widely considered the worst and was to be avoided at all costs. Today, the country of origin isn't a "shoe-in" for determining the quality of leather (pardon the pun.)
Leather tanning is an age-old process that can be replicated in many parts of the world. In essence, it is an "old-world" manufacturing technology. It is also a highly toxic process. The combination of these and other factors have meant that the leather tanning industry has grown in the developing world where labor is cheap, and environmental regulations are less rigorous.
As the tanning industries of the developing world have strengthened, they have improved the quality of their products. Where it was once easy to spot leather from a third-world nation, today the quality is often comparable to first world products. Indeed a significant portion of the items you'll find in your favorite tack store or catalog come from places such as Asia, the Far, and Near East, or South America.
When evaluating leather harness, a touch is worth a thousand words. Poor quality leather will feel greasy, and the dye will rub off easily in your hand. If the leather is floppy, or quite soft, chances are it will not last for long. At the other extreme of pliability, if the harness is so stiff it's difficult to bend, you'd better keep shopping. Often the very stiff harness will show cracking in its finish when you try to bend it. A good quality harness will be a bit stiff when it's new. However, you should be able to bend and manipulate the harness parts even when it has just come off the shelf.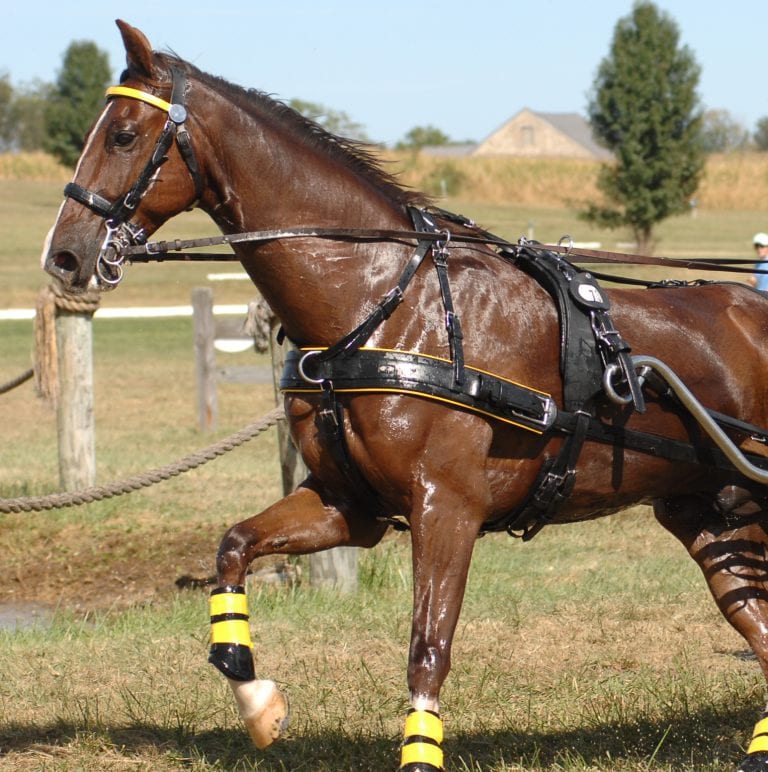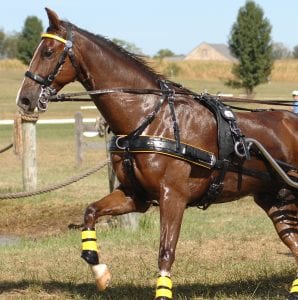 Synthetic no longer holds a significant price advantage over leather from a raw materials perspective. This is primarily driven by the price of oil and other commodities. All synthetic harness is made from PVC and polyurethane. As the prices of the raw materials have risen, so too has the cost of synthetic strap goods.

Much today's synthetic strapping has also evolved to become a higher quality product. Modern formulations include ultra-violet stabilizers that help it resist breakdown from exposure to the sun. There have also been significant improvements in the texture and body of the material so that it looks, and behaves more like leather.

Synthetic strapping is still a new product in comparison to leather, so it is only available from a small, but growing list of manufacturers. As with any product, there are some that are better than others, even within one manufacturer's line. Choosing a good quality synthetic harness must start with choosing a harness maker that builds harnesses from good materials.
Unfortunately, good synthetic strapping is a little more difficult to discern from bad. Look for a synthetic harness that has straps similar in size and thickness to leather. Very light weight synthetic material becomes brittle and breaks down quite quickly. Lots of us love shiny things, but too shiny can be a sign of cheap materials. If you can shave by your reflection in the harness, pass it by.
When choosing a harness of either type consider these few tips.
Avoid harness with staples. Stapling keepers and other small straps is cost saving measure that many harness makers take to save time. Unfortunately, staples weaken over time and often come out. Worse yet, a staple that is half-out can poke into your horse without you knowing it.
Choose harnesses with smooth bearing surfaces. The breast collar, breaching, and saddle are where your horse has the most contact with your horse. Those surfaces should be smooth to prevent friction while your horse is working in the harness. For some reason, there is a trend toward putting "waffled" surfaces on harnesses. I can't advise you strongly enough to avoid those products. It's sore waiting to happen!
Keep it simple. Lots of people get lots of ideas. Some of them are good, others not so good. Choosing the latest innovation that comes out means that you are actually doing the field testing for the harness maker. That may work out ok, but if it doesn't you and your horse are the ones who will have to pay the price. Harnesses are based on designs that are over a hundred years old, and most of the designs have been working quite well for all those years.
Remember that fit and function trump the form every day. It's more important to have a harness that fits your horse well and performs as it should. The harness maker should be willing to exchange parts and pieces to get the right fit for your horse.
Finally, whichever you decide, be sure to take care of your investment. Store your harness properly when it's not in use. Give your harness an annual inspection and cleaning taking all of the pieces apart as you do. Follow that up with regular cleanings throughout the year.
Choosing leather or synthetic for your next harness won't make or break your driving experience. Choosing a well-made harness of either material will lead to years of fun and comfort for your horse.