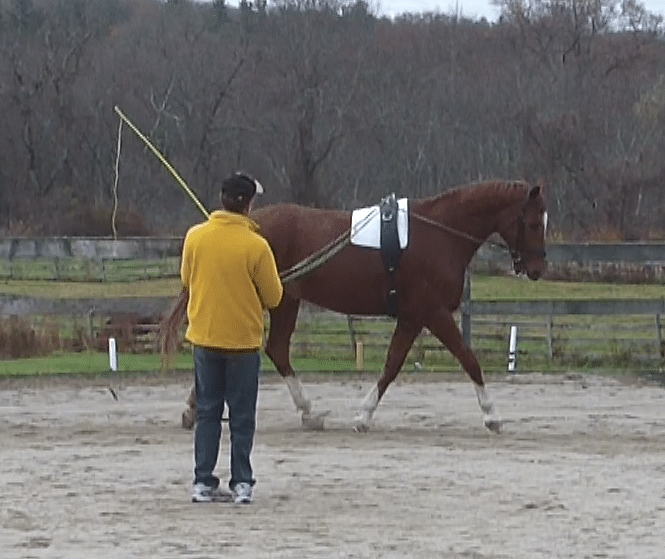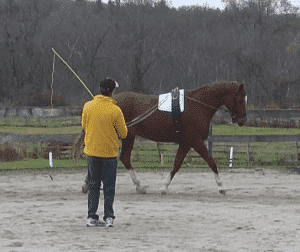 Every once in a while experience walks up to me and gives me a good dope-slap. Sometimes, it does so several times because, well I probably need it. The dope-slap I'm thinking of right now has to do with long lining horses.
I first became enthralled with long lining in college.  One of our classrooms overlooked the indoor arena, where that particular day, a top level German dressage clinician was teaching.  The scene was only a mild distraction from class until he took the long lines from his student.  At that point, my world stood still for a moment as I watched the horse move in ways that seemed to defy imagination.
The horse transitioned between gaits, changes of direction, yields, collection, and extension while the trainer explained what his audience was watching.  All the while the trainer seemed to effortlessly waltz in the middle as the horse worked around him. Despite the fact that I couldn't hear from inside the classroom, I was awestruck.  I have no idea what was going on the class that I was supposed to be paying attention to, but I knew that one day I wanted to be able to work a horse that way.
Learning the Hard Way
Much of my learning to long lining was by trial and error.  Since so few people even knew how to long line, finding instruction in the skill was difficult.  At least I had experience in ground driving, and that served me well to transition into long lining. I built my skills a little at a time, taking every opportunity I could to long line horses and ponies when I had the chance. In time, it became a staple of my training regime as a full time trainer for my various employers.
I didn't use the skill just to get horses started for carriage driving. I discovered how useful long line was for physical therapy for horses recovering from injuries. Working horses unencumbered by a rider or carriage gave me just the tool that was needed to get those horses ready to return to their regular work.
Continued Growth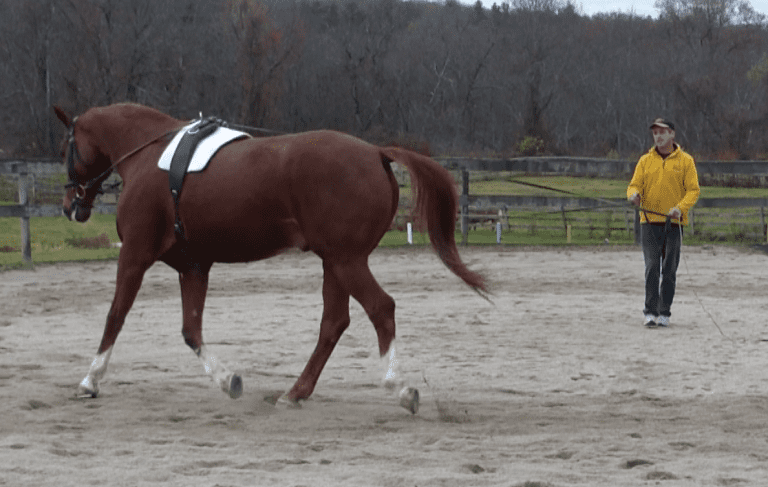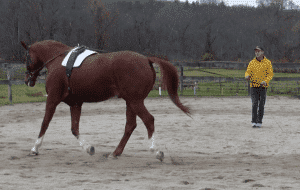 When I struck out on my own as an instructor, giving carriage driving lessons through the New England winters meant lean times.  But as it turned out, there were plenty of dressage riders in my area who weren't too keen on riding during the cold weather.  Lucky for for me, they also didn't want their horses to go without work.  Long lining carried me through more than one cold, dark winter.
It didn't take long for those riders to see that long lining was giving their horse more benefits than just keeping them exercised. They were getting better results in their riding. Many chose to work my long lining into their horse's regular work schedule for the rest of the year. That meant on any given day that I was working horses, there'd be at least 2 or 3 that were on long lines.
That lead to great relationships with trainers who were more accomplished than me in the saddle. They could relate to me what they were looking for in their clients horses, and I could translate that to my skills. As with any skill, the more you practice, the more proficient you become. I credit most of my understanding of horse's movements to this experience.
Can You Long Line From A Bar Stool?
After the loss of a leg from a good day of skiing gone bad, I got curious if I could long line from a barstool.  My girlfriend at the time set me up in the middle of the arena and brought me "Sneaky Pete" to me.  Pete was a regular in my long lining work, so we knew if things when bad, they wouldn't go too bad.
What followed was pretty comedic, but it all worked out in the end.  Within a few sessions I was able to long line comfortably and effectively from the bar stool, and I was back in business.
The Second-Nature Dope Slap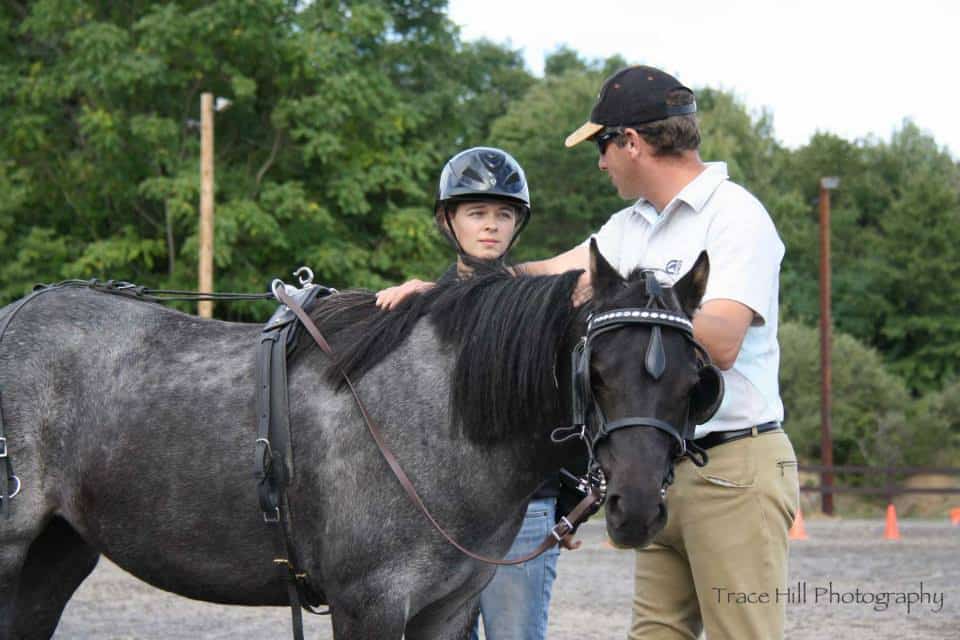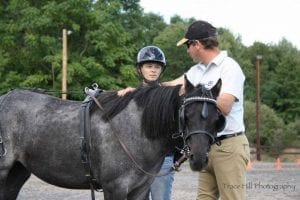 Well, this is a very long way of saying that I've long lined a lot of horses over a long time.  Long lining to me is about as natural as falling out of bed.  This is where the dope-slap comes in.
I first wrote "Introduction to Long Lining" as a class about 5 years ago.  Being as passionate about long lining as I am, I wanted everyone to have all the fun experiences that I have.  So the class sort of jumped from "here are the things to get started long lining," to "now try this lesson plan that took me about 2 years to become proficient at in weekly sessions."  Umm, I guess I got a little bit… overzealous.
My second nature relationship with long lining allowed me to forget just how challenging it was to learn in the first place. It was no picture of grace.  I've had more than a few "at liberty" moments with horses.
Over the years I've taught dozens of people to long line. I often have entire days devoted to long lining instruction. I've seen that with the right instruction, just about anyone can long line a horse. It just takes a methodical approach. And the rewards for the students far outweigh the challenges of getting started.
Finally listening to the dope-slap, I've reworked my long lining class to make it track a little more accurately with the reality of novice long lining.  The foundation has remained the same, but I've improved upon the lesson plans to provide better coaching through the process. I've also added a more appropriate "Elementary Long Lining" lesson plan to followup those foundational steps.
Give It A Try
So if you've tried your hand at long lining before, but gave up because it was too frustrating, I hear you. I want to help you get back on track. If you've never long lined before, I can tell you it's tricky, but so worth the effort!
Take a look at the upcoming Long Lining 101 class. You'll get the instruction that wasn't available to me when when I was learning the skill. If you stick with it, you'll get really comfortable with long lining. Then you'll be ready to jump into developing more skills like long lining cavelettis and exercises to improve your horse's impulsion.  Of course, I'll be putting together a followup class for those skills as well!