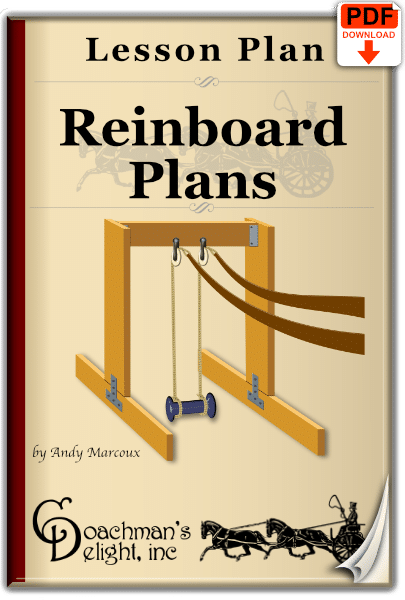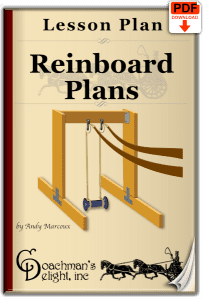 Reinboards have been around in many shapes and forms since people first started to learn to drive horses. These apparatuses allow drivers to develop the necessary hand coordinations to manipulate the reins without the added confusion of driving a horse.  You could think of it as sort of a flight simulator for carriage driving.
These are particularly useful when a driver is trying to understand how to adopt a new rein handling method, such as the Coachman's, Hungarian, or Achenbach method.
Here's a handy little video to go along with the Reinboard Plans to build your own reinboard at home.
Subscribe to my YouTube Channel
A reinboard can be constructed as simply, or as elaborately as one can imagine. Most reinboards rely upon two separate weights that hang from a pulley attached to a bar or frame. This gives the student a rudimentary understanding of how their rein handling is effecting the bit. However, it lacks the full connectivity that the reins have in reality.
A simple modification that can be made to just about any reinboard is to hang a 6lb hand weight off both reins.  This has several benefits.  The first and most obvious is that the student can see the bit tilting left or right, therefore it is more intuitive to what the reins would be asking of the horse.  Secondly, the reins are connected in a continuous loop, as they are when driving a horse.  That allows the student to develop the feel for how handling one rein effects the other.
Of course, just building a reinboard and pulling on the left and right rein to make the weight dance teaches the student little.  To really leverage the learning potential one should follow a guided series of exercises designed to teach specific skills in rein handling.
You'll find several lesson plans here for learning new coordinations or refining ones that you'd like to improve upon. If you don't already have a reinboard, there are also reinboard plans available to build your own reinboard.