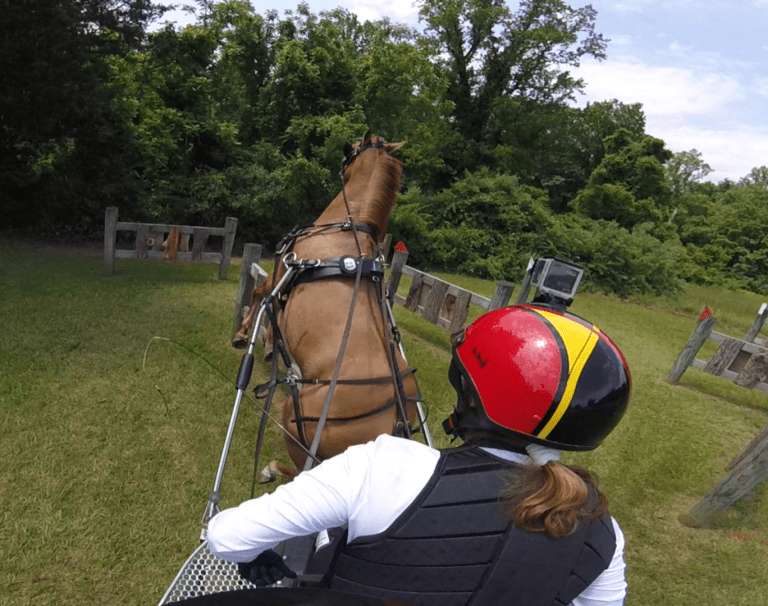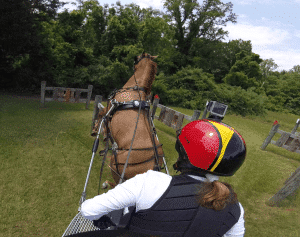 Even the best horses have their spooky moments. When those moments occur under saddle, their usually pretty easy to ride through. However when we put the horse to a carriage, those spooks can a be more intimidating.
As with many things in life, it's not about what you've been handed, it's what you do with it makes the difference. Handling a spooky horse from the carriage is no different. Here are a few simple tips that can help you manage your horse when he has that momentary lapse or reason.
Get Your Eyes Where They Belong
The first thing we look at when a horse spooks is the horse. That's natural. The horse has just done something unexpected, so he's suddenly got our full attention. But that's not the best place for our attention at that moment.
When your focused vision is on the horse, all of your body's systems focus on the horse as well. Your whole attention becomes intent upon what the horse is doing at the moment (and how to make him stop from doing that)! That takes your attention away from other important things.
Your situational awareness is the first thing to suffer. You may have it in your mind where there's a ditch, other obstacles, and which way the open areas are, but those little maps inside your head are not quite as accurate as you think. If you thought you were just three feet away from a dangerous ditch, you might fight the horse far more than necessary to avoid something that isn't really a problem. On the other hand, if you overestimated your distance to the ditch, you could find yourself in trouble quickly.
Picking up your eyes allows you to accurately assess where those obstacles and safe areas are. That, in turn, allows you to take the best action.
More importantly, picking your eyes up puts your attention on what you want your horse to do next instead of what he's doing at the moment. The spook itself really isn't all that important. It's what your horse does in the moment after the spook that determines the outcome. Focusing on what you want the horse to do next allows you to communicate that to him, and get back to your drive.
Center Your Reins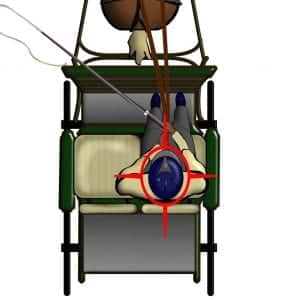 One of the first casualties of a spook is the quality of your contact through the reins. In the moment of a spook, your horse's body position changes dramatically. His head may go straight up in the air or he may crane his neck around to look at the boogie monster in the bush.
That leaves the driver scrambling for contact wherever they can find it. Arms go wide, hands reach for the sky or the floor, and things get pretty messy. The communications sent along each rein individually come across as an unsynchronized jumble of gibberish. Often times those communications never even reach the bit.
The big thing to remember here is that the most efficient line of communication always lies between the harness saddle and the center of your body. Pulling the reins way off to the right as your horse shies to the left does not provide the horse with any new, useful information.
To reestablish that line of communication, you may have to lean back, and gather up both of your reins in a hurry. Center your hands in front of your body. Once you do, you'll have the full use of the reins and bit to direct your horse toward a more acceptable path. And, since you did a good job of getting your eyes where they belong, it will be easy to show your horse what that path is!
Get Back To Work!
If you really wanted to train your horse to be a habitual spooker, the perfect formula would be to stop all work the moment after a spook. I've seen more than one horse do the math on this equation, and it goes something like; Big Spook = Big Work Break.
Sure, you're heart rate just jumped off the scale, and you're probably breathing harder than a jack rabbit on a date, but you gotta get yourself together. Let that tense moment fall behind you and return your focus to what you were doing with your horse.
If your horse had a break in gait, return to the gait you were supposed to be in as quickly as possible whether that was a walk, trot, or canter. If you were in the midst of a transition, complete the transition and keep driving. Returning to the work that you were doing before your horse spooked is the best way to take his mind off whatever it was that worried him in the first place.
Proactive Steps
These are just a few handy tips to keep in mind next time your horse starts get foolish when you're out on a drive. You can take a more proactive approach to these situations by practicing the aids and communications that will get you on your way past the spook.
Among the most useful aids in those situations would be the use of the the outside rein, and teaching your horse to move off the whip. Those can be the most instrumental tools to get your drive back on the straight and narrow, if you've first defined them for your horse.
If you want more tips, skills, and exercises, take a look at "Drive Past the Spook." You'll not only get comprehensive advice on how to handle those spooks, but you'll get training ideas that may just keep them from coming up in the first place.
When you go out on your next drive with your horse, keep the things you learned here in mind. Put your eyes where they belong, keep your hands to yourself,  and drive on!