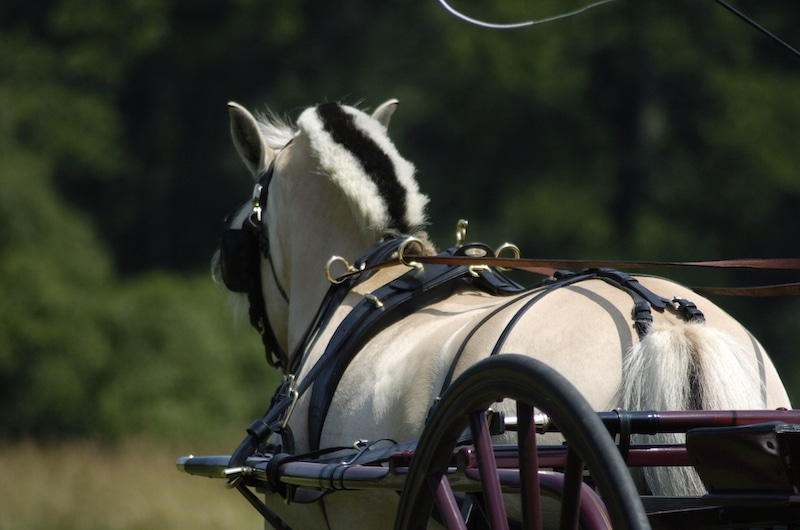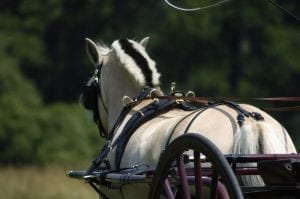 When we think about training horses, we have a tendency to think of the big things. We imagine a great dressage test, zippy hazards, or a double clear cones drive. Those big accomplishments are fun, but they don't just happen all at once. They're something that you have to build toward through many incremental steps.
It can be a lot like putting a puzzle together. Each piece of the puzzle fits into the next until a larger picture begins to develop. The puzzle pieces for training horses are made of the shared experience, knowledge and skills between you and your horse. You put the pieces of the puzzle together strides at a time.
Progressive Circles
Let's take a very simple example: Working on a circle. We'll use the simplest of circles asked for in dressage, a 40 meter circle at B. The circle should start at B, cross the centerline 20 meters from X, touch the rail at E, cross the centerline a second time 20 meters from X, then return to B.
Let's not get too caught up in the math involved in the geometry of the figure. Just know that it's a circle at the center of the arena. The waypoint on the circle are the letters B and E, and the two times the circle crosses the centerline of the arena.
Most horses and people aren't able to just go out and drive a perfectly round circle. The figure usually comes out oblong, has straight bits to it or warps in some other weird way. That's just part of learning to drive good figures. However, if you pay close attention, the circle is going to have some consistencies in it's wobbly form.
There will be places where the circle is too small, other places where the horse always seems to rush a bit, maybe another part of the circle is too large. Yet, there is usually a quarter of the circle where things just seem to fall into place. The horse is looking where he's going, the pace is comfortable, and the figure is clearly on a nice arc for the size of the circle you're trying to drive.
Focusing On What's Right
Rather than putting your focus and attention with what is going wrong on the circle, focus on where it is going right. It's easier to build upon success than it is to correct failures. It will take a few cycles of "information gathering" to work on your circle.
Approaching the portion of the circle that goes well, observe what your communications are with the horse in the moment before things begin to fall into place. As you leave that region of the circle, what do you or your horse do that throws the next portion of the circle off?
With that information in mind, now you can focus on extending the portion of the circle that's going well. You can ask for the "good" a little bit earlier on the circle. Maybe just a few feet before the horse was going to go well anyway. Where things are going well, minimize your inputs. After all, if it's going right, why do anything to screw it up?
As you're about to leave the good part of the circle, give a mild aid to counter the expected issues that typically show up there. If the horse rushes, ask for slowing before the rush happens. Timed right, you'll get your horse keep the good going for a few extra strides.
Following the progression, you'll start making the good quarter of the circle into a good third of a circle. In a few cycles, it turns into a half-good circle and so on. The cool thing is, while you were addressing the good side of the circle, the bad side will start to mellow out as well, and become "less bad." As the "less bad" side of the circle diminishes, the good side of the circle closes in to create a whole circle of good work.
This is approach works for skills beyond driving circles or other figures. When you're working on lengthened movements you'll usually get just a few strides of lengthened walk or trot at a time.
Rather than looking for a full diagonal of lengthening, use a short diagonal going from half-way down the long side to the corner. As your horse begins to develop the balance and coordination to lengthen for a short diagonal, you can start making the diagonal incrementally longer by starting the diagonal earlier along the long side.
Don't Get Greedy!
When things do start to fall into place, don't be greedy. Sure, it's cool to see your horse moving toward a higher skill, but have to temper that excitement.
It's always tempting when a new exciting skill set starts to come together to keep going. More doesn't always equal better. Just because you and your horse finally figured out how to do something right, it doesn't mean you're going to keep doing it right. If you've taken the "Strides at a Time" approach to skill building, you have to recognize that you followed a path to get there.
Just as there was a path of incremental steps that lead to success, there are incremental steps that lead away. When you and your horse begin to mentally or physically fatigue, the new skills will be the first to suffer. Instead of doing something a little more right, you'll start doing it a little more wrong. In short order, you can actually end up diminishing the new skill, rather than adding to it.
So have patience when you train, and don't get greedy with what you expect in return. The process of learning has to flow from one lesson to the next. Occasionally you'll get a big break and something will come to you in one big "Aha Moment." The rest of the things have to built a few strides at a time.
Your Experience
"Ah-ha" moments are awesome, and really gratifying. What one "ah-ha" moment do you remember most?
Share it below, and then compare it with something that you had to learn "strides at at time."
You can even ask questions about something you're currently still struggling with.
Share your experiences or questions in the comment section below.