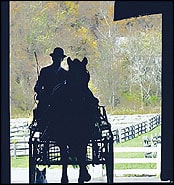 Driving horses takes a tremendous amount of focus and attention.  Well, going for a carriage ride doesn't take much.  Almost anyone can get into a carriage with a half-way trained horse and master left, right, stop and go.
But really driving horses well, beyond just getting around takes focus, attention, thought, foresight, and coordination.  If you really want to drive a horse well, you really have to think about it.  Maybe that's not surprising for you to read coming from someone like me.  After all, I'm a professional at driving, training, and thinking about horses.  What might be surprising is the story of when and how I came to the realization of how much focus it really takes.
Experience is what you get… when you were expecting something else!
It was in my 20's.  I had been entrusted with a stable full of horses, two grooms, and whatever carriages and harnesses I thought suited the job.  I was living in an area where there is a great deal of driving going on through the winter months.  I drove four to six times a day, in every configuration from singles to four-in-hands.
As it all sounds, it was quite a lovely existence.  I was living many people's dreams.  Not only did I get to drive horses all day every day, but I was getting paid to do it.  I quite enjoyed going out on the roads and trails, having long conversations with my grooms, and seeing what everyone else in the area was up to.  It wasn't unusual to head out on a drive and pass two or three other four-in-hands as we drove, in addition to singles, pairs, and multitude of riders.
The Moment of Truth
All of this great driving was loads of fun.  But once the novelty of it all wore into the every-day, I began to notice something about my driving…  It wasn't improving.
I even remember the very moment that this realization came to me.  I was driving a four-in-hand hitched to a favorite antique roof seat break at a social event.  The circular driveway of the property was lined with granite curbs.  As I navigated my team around the circle I dragged the wheels of the carriage up against the curbstones.  The steel tired wheels and wooden spokes screamed as they scraped by the granite.  In my mind's eye, I could see every gouge, chip, and scrape in the wheels as I listened to the wretched noise.
Despite having intensive lessons in both carriage driving and riding, with top-of-the field instructors, my driving was, at best, so-so.  Worse yet, the skills that I lacked were rather basic skills.  My driving wasn't just mediocre in the horse "way of going", it was mediocre in regard to where the horses were going!
This realization lead me to understand that I wasn't fully engaged in my driving.  I was too busy having a good time, talking to friends, and seeing sights.  If I was going to improve my driving, I really needed to change how I was driving.  This would take far more focus and attention than I had ever given my driving before. No longer would I be able to watch and admire the beautiful estates, horses, and terrain I was amidst on a drive.
This epiphany felt like a small early-life crisis to me.
My career choice had been one that cast aside all convention.  I wouldn't be chained to a desk subject to corporate culture, and the 9 to 5 rat race that I grew up hating.  I traded the security of matching contributions to a 401k, weekends off, and regular hours for something more adventurous.  I got to travel all over the country, drive horses in idyllic settings and meet people I would have otherwise no reason, nor opportunity to meet.  I felt like it was an even trade.
But now, with this whole new understanding of what it would take to be good at this job, it began to look more like… work.  I wondered how I had missed this little detail in all the years before?
Yet there I was, with a stable full of horses, help, and equipment, all on someone else's dime.  This realization that I had stumbled into "working for living" weighed heavily upon me.  I was in too deep to cut and run.
I had to make a go of it.
Over the next several weeks I began to focus on my driving and riding more intensely.  I paid close attention to my instructor's comments.  My driving instructor was good at telling me what he wanted the horses to do differently.  My riding instructor was good at telling me how to get horses to do things differently.  I tried to understand every bit of the coordination that it took to pull all of these parts together.  I focused on my accuracy of driving, and coordination first, then began to watch the form of the horses.
I was so engrossed in the project, I didn't even notice how hard I was working at it.  One afternoon, the braver of the two grooms came into my office, hat in hand (literally!).
"Andy, are you going to fire us?"
I was completely caught off guard, and confused by the question.  These women were crack troops.  I honestly couldn't have two harder working people helping me if I had been granted the wish by Aladdin.
"What in the world would make you think that?" I asked in blinking disbelief.
"Well, in the past few weeks, you've been so quiet when we are out driving.  You don't talk to us anymore.  We just figure you've been mad about something, but you're not telling us.  So, if you're going to fire us, we'd kinda like to know."
I felt relieved, amused, and more than a little guilty when she told me that.  In my effort to become a better driver, all of my focus and attention had been taken up in building my skills and observing the horses.  There was no room left in my attention span for the fun light conversation that we normally shared on the carriage.  I apologized to her and explained my position.
In fact, they were a huge part of what motivated me to get better.  In my mind, if they were willing to work as hard as they did for me, they deserved every bit as much effort in return from me.  They deserved to be on a carriage with a driver who was trying to be the best driver he could be.
In time, the skills that needed so much of focus and attention began to come to me more freely.  As each skill took hold, the amount of focus and concentration it had required diminished.  There became more room for conversation, as I found more of my attention available to listen to what my friends were saying while we were out driving.  They also were more understanding when conversation died off suddenly when the horses demanded more of my concentration.
Marking Progress
This is the natural progression of learning, growing, enjoying, then wanting to learn more.  As we learn a new skill, it takes a great deal of our focus and thought.  The more difficult we find the skill, the more attention we have to give that one activity to the exclusion of others.
As a particular skill develops, less focus is required to use the skill.  Once we are quite good at a hard-earned skill it becomes muscle memory, thereby it seems effortless.  We "relax and enjoy" the experience.  That's great!
When we get to that place, it's easy to become complacent.  It's easy to just go along with that which now comes easy, and forget the hard work it took to make it so easy.  That can lead to frustration when encountering new challenges.
Remember, we all do this sport for the fun, and it's more fun when we're doing it well.  One of my all-time favorite students summed it best when she said: "Good fun is hard work!"