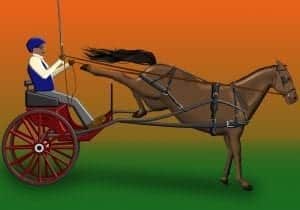 When a horse or pony bucks in a carriage, it presents a potentially dangerous situation. If the horse is able to get his hind end high enough, he can kick the carriage, or worse yet, the people in the carriage. To safeguard against that, a bucking strap can be added to the harness. However, that really doesn't address the real problem if the horse has a habit of bucking.
I get questions all the time about harness fit, and particularly how to fit bucking straps. I'm always happy to answer the questions I'm asked, but sometimes I feel like the wrong question is being asked.
Here's the question from the "Ask Andy" page:
Hi Andy.

I have a welsh pony that bucks in the shafts. I have put a bucking strap on (and followed the pointers in your video). It's a 2 wheeled cart (Frey Rebel) and she seems able to bounce it around and still buck. Thoughts?
My Answer:
The first thing I'll say is that it's a little tough to diagnose a problem from a 3 line message, so I'll take a few liberties in my reading of it. We'll start with a discussion on the bucking strap.
The Bucking Limiter
The bucking strap is a safety device, rather than a training device.  In other words, it's there to prevent something worse from happening, but it can not teach the horse that bucking in the carriage is wrong.
The idea behind the bucking strap is to keep a horse's buck from creating a bigger problem if the horse tries to have a buck while driving.  Properly fitted and adjusted, it limits the height that the horse's croup can rise when the horse makes an effort to buck.
That's a good thing, because it protects you from getting kicked in the carriage.  It also keeps your pony from trashing your carriage, or hurting himself by making contact with the carriage.
It many circumstances, the bucking strap will discourage a pony or horse from bucking. When the bucking strap catches the pony before he can get his hind end in the air, it kind of gives the buck a rejection knock-down. That makes is difficult, but not impossible for the pony to buck.
What the bucking strap doesn't do, is train your pony to not buck. It's not a training device. It's a safety device.
If a horse is really committed to giving a buck, he'll try to find a way to make it happen. He'll adjust his balance so that he can still get his weight on his forehand without getting the hind end quite so high in the air. Once he does that, he can still give a nice little double-barrel kick to finish the move with a bang. The buck won't be as high and grand as the pony would like, but he'll get his point across.
What The Point?
Therein lies the question. Why is the pony choosing to buck in the first place?
Horses and ponies don't usually buck just for the heck of it. There's usually something that made them think that bucking was a good idea. Generally, it has to do with something else that they think is a bad idea. (Although occasionally some horses do it out of exuberance.)
Bucking is a form of resistance, or lashing out. That can be in reaction to a specific activity such as riding or driving, or an outside stimulation.  The menu of options for "outside stimulation" is a pretty long one.
Tack fit usually ranks pretty high on that menu. That includes everything from the bridle all the way back to the ends of the traces including how loosely or snug the pony is hitched to the carriage.  Uncomfortable or painful tack is more than enough reason for a horse to buck.
Check for any rub marks, sores or hot spots everywhere on the pony. The best time to check is after a drive. If he's sensitive to, or objects being touched in a place where the harness touches him while driving, you may be on to something.
Bit comfort is another big item on the list. If the bit doesn't fit correctly, is too strong, or is being handled too roughly, your pony may just let you know with a buck.
Finally, the hitching could be either too tight, or too loose. If it's really tight, or the pony never was really well trained to breeching, he could be trying to reject it.
On the other hand, if the breeching is really loose or low, it can cause just as much trouble. In that case the pony gets an extra shove after every downward transition. It's like having someone walking behind you, and every time you stop or slow down, they bump into you.
When you have the pony hitched to the carriage, pull the carriage back so the traces are taught. You should be able to place your hand sideways between his butt and the breeching. It can be a little snugger than that, or a little looser. Larger variations in either direction could be a problem.
What I Would Recommend
I'd say it's time to go back to basics. Treat him as if you're teaching him to drive again from the beginning.  That means lots of ground driving and long lining.
If the bucking doesn't show up there, you're on the right track.  Next, introduce the full harness to the ground driving and long lining.  Ditch the traces, and attach the breast collar to the breeching with bungie cord.  (Take the hardware off and use a Lark's Head knot to attach it.)
You can start with that setup relatively loose, but not so loose that the harness slops all around on him when he's trotting on the long lines.  Over a couple of sessions you can tighten it up, but don't make it restrictive.
If and when the bucking does show up, examine the conditions in which he decides that bucking is the right thing to do. He's wrong by the way. Please feel free to chastise him for it, but also try to figure out what is leading him to it.  If you can remove the stimulation that's causing him to buck, he'll be much happier.
By all means, have someone help with the project. A bucking pony is a dangerous prospect, so take it seriously. Working alone with a known bucker is risky business. At minimum have someone who can lend a hand while you're working him.  Better yet, get a trainer to help you. It's worth it.
So that's a long answer to a short question.  I hope it helps.  You're welcome to ask followup questions in the moderated comment section below.