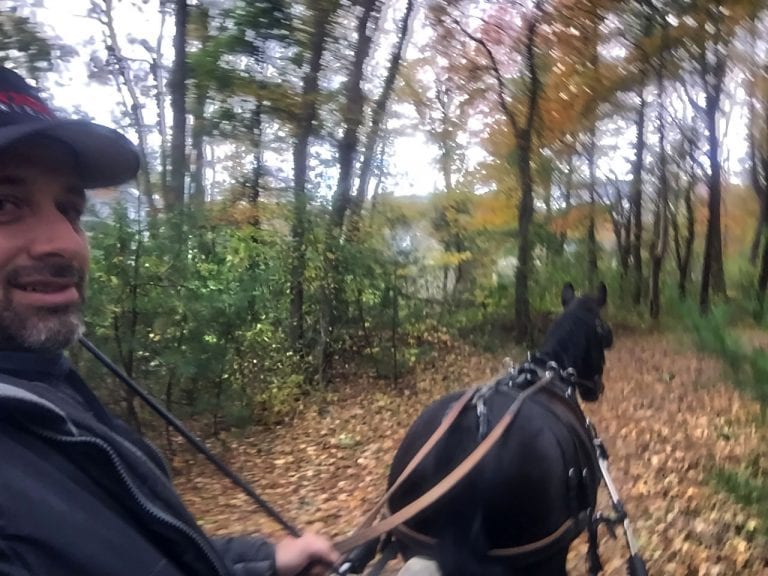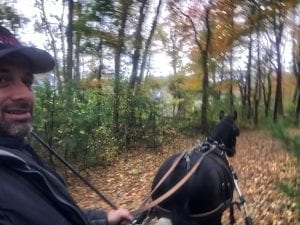 I hate to say something like "How was your season?" because to me, this is prime-time for driving. I love driving in fall despite the dwindling daylight and falling temperatures. Maybe not so much of an issue for those of you in warmer parts of the world, or on the other side of the globe. So instead, I'll ask:
"What's been your favorite day, thing, or moment from your driving this year?"
You can let me know in the comment section below!
To answer a different question that has been asked of me by many:
Yes, live online classes are coming back!
It's been a while since we've visited rein handling skills, so that's where we are going to start the online class season. In the years since I first introduced Reinsmanship Through Muscle Memory, I've learned a lot about what students need the most help with on that subject.
I'm in the process of re-building an entire course series on that subject so that you'll have a really comprehensive resource that you can return to throughout all of your driving. It's taking some time to pull together, but I think you'll find it'll be well worth the wait.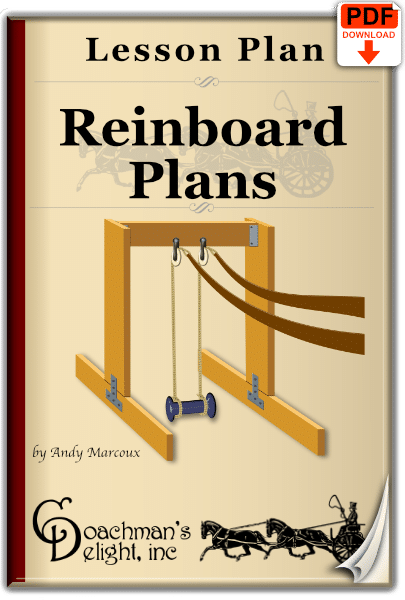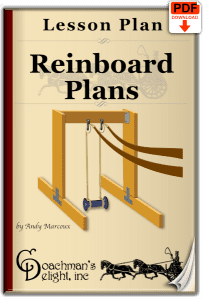 With weights in mind, this is a great time for you to dust off those rein boards I told you to build all that time ago (see what I did there?) If you don't have one built, there are plans available here. It's a really easy project that you can put together on a rainy afternoon (snowy for some of you already!)
I'll be sure to let everyone know when the first class is scheduled through this newsletter. If you have some newbie drivers that you want to be sure to keep in the loop on the reinsmanship classes, send them to this link to ➙ Subscribe to the Newsletter.
Past Classes
In the mean time, you may or may not know that I've been keeping some of the past classes available for instant online viewing. Those classes include the live class recordings, downloadable lesson plans and articles that came with the live classes. Every so often I run across something that I think "this should have been part of that class," so I add those extra bits of content to the classes as well.
Classes You Can Take Now
My Favorite
I suppose I should answer the question I asked at the top of the post about my favorite day in carriage driving this year.
My student, Kathy and I went out to Kentucky to see an old friend of mine, Sterling Grayburn (I'm not calling him old… just older than me… plus some.) We were on the hunt for a pony for Kathy.
Sure, she has some great ponies that are good at driving. You know the Haflinger and the dun Quarter Horse that shows up in so many of my classes and videos. But, nothing against them, their potential is somewhat limited.
We narrowed our selection of ponies down to two really good ones. We were having trouble deciding which one to really focus on, so we called my girlfriend as someone to bounce our thoughts, ideas and debates off of. She's a long time National Pony Club examiner, and all around great horsewoman, so I thought she'd be a good one to help us make a decision.
"Why don't you just bring both of them home?" she said (reasons you probably shouldn't trust your trainer's girlfriend.) Kathy didn't say no, and Sterling made us a deal that worked to bring them both home.
You might think that was my favorite day, but really, it lead to a fair amount of quiet hang-wringing on my part. I spent no small amount of time worrying that one or both of them might not turn out as well as I hoped when we got them home.
I'm happy to report that both Buzz Lightyear, and Simply Loretta are working out great! Next year is going to be lots of fun!
Looking Ahead
I'm going out to work as many ponies as I can while we have the weather on our side. I promise that I'll keep grinding away at the keyboard during the dark hours to keep you amused this winter.
Let me know if there are any specific subjects that you're just burning to see me cover. If it's just a question you have, post it in the Ask Andy section on my website.
See you online soon!
Andy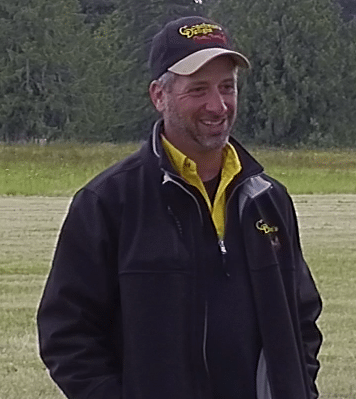 P.S. ~ If you have success stories with my lesson plans or online classes, it would mean a lot to me if you'd share them in the reviews tab for that class or lesson.
Just go to the "product page" for the class or lesson, click the reviews tab, and gush to your heart's content. Tell us what kind of horse/pony you drive, how you used the teaching, and what your results were.