From time to time I get notes of thanks and other feedback in response to Online Classes or Lesson Plans here on the site. It's really gratifying to read about how useful these classes are for people in such real terms. As you can imagine, I put a huge amount of work into the classes. Unfortunately, I don't really get to see the real world results of my teaching the way I can when I'm out in the field working with students and horses. I can only assess their effectiveness by the number of students who sign up for subsequent classes.
Here's a recent note that I thought I would share, for two reasons:
It's very specific on how the training has made a difference for this person and her horse. She has done a great job relating how she has been able to bring the lessons she learned from the online class to her work with her horse.
The second is that she does a great job illustrating how the lesson at hand is as beneficial to riders as it is to drivers. This is no surprise to me of course, but I thought you might like to see what it's like for someone "in the real world."
The Unedited e-mail:
Andy,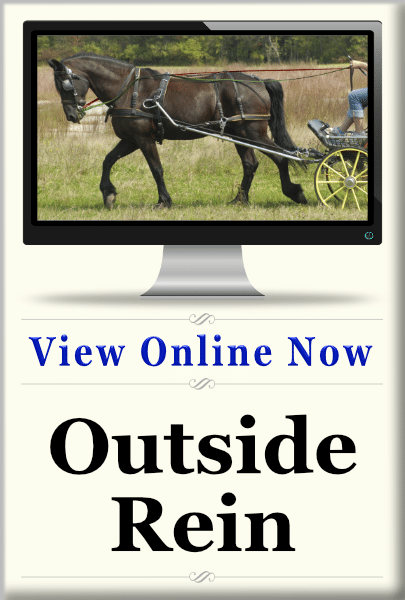 I wanted to contact you to tell you what a difference just one of your sessions, Outside Rein, has had on my dressage horse AnnaBelle, AB. She is a reactive Holsteiner mare, but mostly very level headed, not impossible or crazy . She is very fancy; she is not an amateur ride. She shies with the agility of a cutting horse on a little, fast calf!
I ride on a regular basis with a dressage instructor of note. My mare has been in training for 1.5 years. By that I mean, a real training schedule. My instructor went to Wellington for 3 months this winter leaving me without help and my other instructor who comes for regular clinics to my farm became ill and cancelled our winter clinic….what to do?
I have been receiving your email notices because I want to start my welch pony driving and I wanted to get advice about harness, carts, etc. I saw the notice of your web cast about getting the horse on the outside rein. I thought, I'm way past this lesson, but it sounded like maybe you had a method, so I signed up. I'm all about basics.
The training video was absolutely helpful on many levels. Several of my issues became quite obvious. I set up the cones suggested by the lesson plan. I concentrated step-by- step working the figure-8 cones. I have not varied the lesson. I begin at the walk and advanced to the trot in a very progressive and disciplined manner. I have to tell you, she has not shied at all this winter. Maybe she is finally growing up, but I think installing the ½ halt in such a dramatic way and sticking to the plan, giving me a positive direction with a goal (OSR) made a big difference.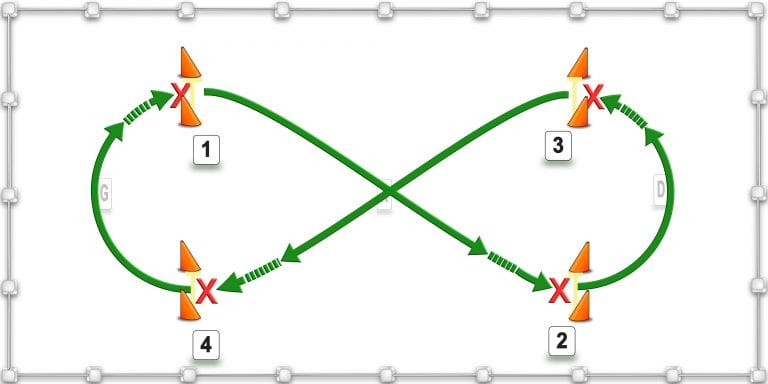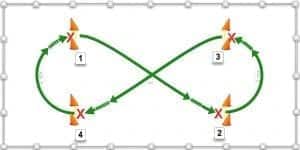 AB thrives under the endless pattern. When she is in self-carriage, light as a feather and trucking, l take her off the pattern and do other school figures I learned a long time ago from Hans Mueller who was a master at using schooling figures. The discipline of the figures and the anticipation of the ½ halts keeps her attention on me, the cones, the figure and leaves her no time to look about to find distraction. Plus, she understands what comes next. This slow, methodical work offers her a comfort zone to begin our daily routine. Keeping her off the track also diffuses her temptation at distraction. This is my warm-up. She loves it and I love it. It is direct and not wishy-washy. I make certain she goes to each point. I often play music to be certain I'm keeping the tempo from one gait to the next and that I keep the tempo during the ½ halt, not grinding to a slower footfall.
I have added 1/8 & 1/4 turns on haunches and turns on forehand toward the end of the warm-up. By this time, AB is totally listening and ready for adding a new feature or two. This has given me a new way of looking at how to work a young, reactive horse by building responsiveness step-by- step (literally) without negatives in the training. This method is so positive.
The cones come up quickly; we both have to concentrate. If it does not happen as automatically as desired, another cone is coming up fast…no time to focus on the last cone because I have my homework for ½ halt, giving, etc. BTW- your explanation of the function of the outside rein in turning also made a big difference. Although I thought I knew this intuitively, I discovered that I was guilty of dropping the outside rein too much to allow the bend. I find it easier to self-correct. AB is now nicely into the right outside rein most of the time, an issue I struggled with from the beginning. Now I just work methodically during the warm-up and she realizes it is not so bad. I can feel her stretch the right side into a comfy, light contact. It is almost like it is her idea.
I plan to sign-up for many more of your wonderful training videos. I've told many of my friends about this great opportunity, but…they cannot get past the "driving" aspect. In my mind, if you can get it done sitting in a carriage, I'm all ears! Driving is harder than riding, less feeling and feedback. I've been in adult education for 35 years working for a University. I must say, your video training is beyond excellent. You are a true educator! Kudos.
Thank you for reminding me how important method, consistency, & repetition is in the sport of working with horses. I have the feeling that I can do anything with my mare. My confidence level is heightened and we are much more of a team than before your video.
In closing, I originally followed your newsletters, etc. thinking that I would be able to attend a clinic or seminar. It was not apparent to me that you live so far away. I thought you might be located near Southern Pines. I wish I could find a way to ride with you just once!
I'm a fan!
MayMay
Thanks for the note May May!
I love to see it when people make the connection that "it's all the same thing" regardless if you are driving, riding, or long lining. There are more parallels between the activities than there are exceptions.
In truth, every one of my lesson plans can be used as effectively for ridden work as it can for riding or driving. Even cones lesson plans work for riders. I frequently will have riders who were watching the cones patterns politely ask me to leave the cones in place when I'm done teaching. The riders enjoy them so much that when I return to the same location, I'll see the same pattern of cones still out in the arena with evidence of lots of traffic!
While my main focus is training for carriage driving, I do frequently teach riding lessons at clinics and at home. That, after all, is my personal base of horsemanship. I did not start life out as a carriage driver. The truth is, the lesson plans in question are often ridden lesson plans that have been reimagined for carriage driving, rather than the other way.
Keep up the great work at your end, and I'll make my best efforts to keep new and interesting lesson plans coming your way!
Here are a few other fun lesson plans that work particularly well under saddle:
How have your lesson plans been going?
What online class or lesson plans have worked well for you and your horse? Share your experiences in the comment section below!