"When you hear hoof beats, think horses, not zebras."
Well, zebras might be a bit more fun, and interesting, and whimsical here in New England. I even know where there is a zebra in Vermont. However, if I hear galloping hooves at place or time that's unexpected, I don't turn my head expecting to see zebras.
That, in a nutshell, resembles Occam's Razor. Given a question or a problem, and a series of possible solutions… the simplest explanation or solution is more likely to be the right one.
What is Occam's (or Ockham's) Razor?
This principle is often credited to a Franciscan friar, philosopher and theologian by the name William of Ockham. Of course there were others who said similar things as far back as Aristotle, but somehow Ockham was posthumously given the naming rights for the principle, evidently at the cost of a spelling change to his name. But what about the razor?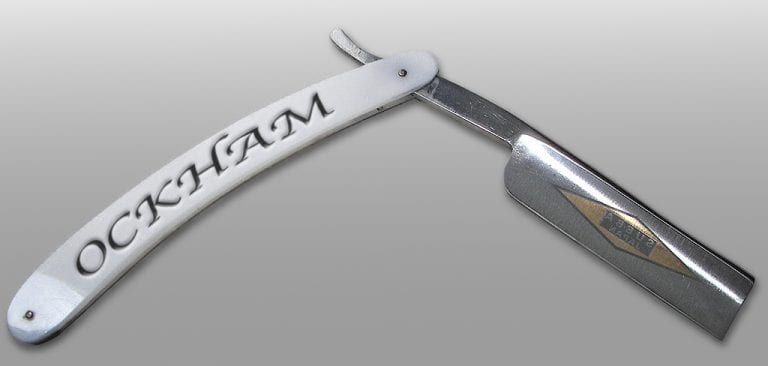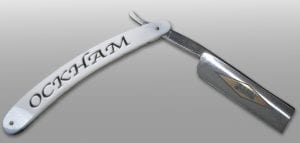 Think of the razor as cutting away the excess fat, and, well, the B.S. out of possible answers or solutions. The philosophical razor should cut right down to the solution that requires the fewest assumptions, supporting arguments, or steps. If a room is dark, it could be blown light bulb because of a power surge that tripped a circuit breaker a moment too late just before a blackout… or the light switch could be off.
What the heck does this have to do with ponies!?
It seems that when we are riding, diving, or just being around horses, we often encounter issues that we have a hard time understanding. We often wander down long trails of over-complicated explanations and countermeasures. These trails are really just rabbit holes that lead us further away from our goals.
This is especially true when we're talking about training. Maybe the horse is acting out during their training, or simply not responding the way we want them to. The over-complicated thinking seems to surface most when there is a consistent, or habitual issue.
Example of Over Thinking
I'm sure there's going to be someone who reads this part, and takes it personally. That's because, this is a conversation I have with a hundred horse owners. So if you think I'm writing this after talking to you, you're probably right, but then… you're in good company.
Horse Owner: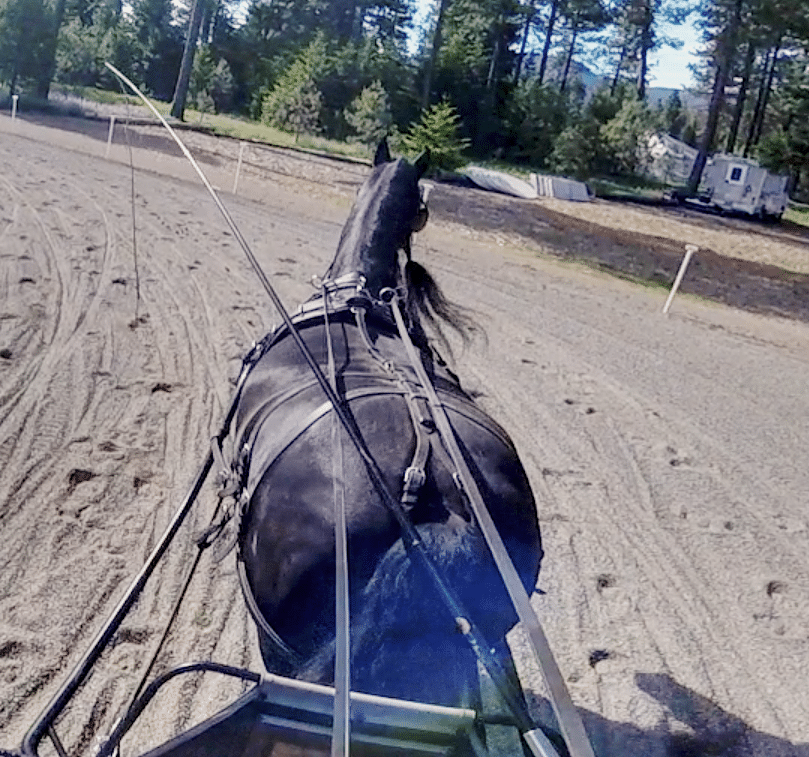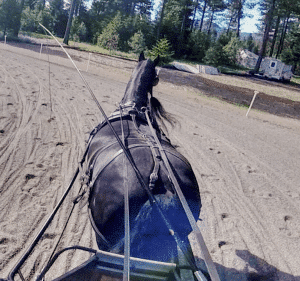 "My horse counter-bends to the right when we're going through left turns. It's clearly the result of something wrong, because nothing I do changes it. I think it's probably a combination of mental anxiety, and some sort of old injury. Still, I want your opinion on how I should fix it. 
I think she probably had a fall on her left side when she was trying to get away from a whip when she was being loaded on a trailer. This didn't happen with me, and I don't have any direct knowledge of the accident, but she has a place on her left hip that often is missing hair. The skin looks healthy, so I'm pretty sure it's a sub-dermal scar, no doubt from that incident. Anyway, she's afraid of whips, and she doesn't like getting on trailers, so that makes pretty good sense to me. 
As a result, I think she's just very guarded, and afraid of things on her left side.
 I've had the vet out, but she hasn't really found anything (because she doesn't believe me, and she's not looking hard enough.)
I also have a chiropractor working on the pony, which he say's she's definitely getting better, but he can't find anything specific. I also have her massaged twice a month.
I think all of that is good, but she still counter-bends, so I'm thinking of taking her to a specialist."
This equestrian's rant about the horse may sound over the top, but this is a fairly accurate composite characterization of what I encounter on a regular basis!
Enter Occam's Razor:
Here's where the "razor" part of the philosophy really cuts. The solution to this problem in my experience is almost always:
"Stop staring at your horse!"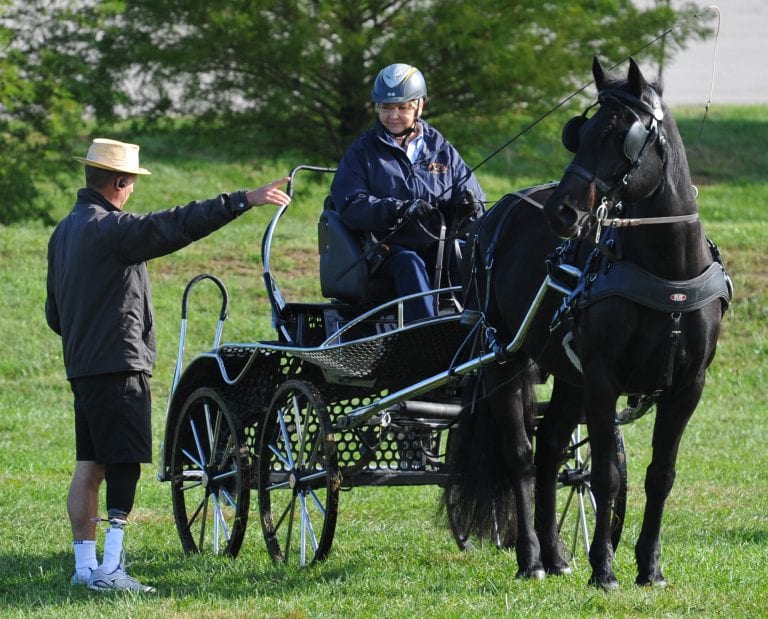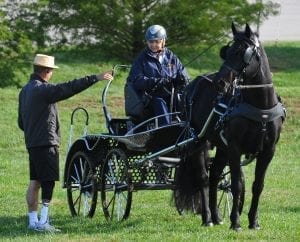 I've given hundreds of lessons where the driver has requested that I help them "fix" their horse's counter-bending. We spend 45 minutes focused on nothing other than getting the driver to look 20 meters ahead of the horse. Suddenly the driver becomes aware of the dwindling time left in their lesson, and they beg of me to address the counter-bending.
It's then that I allow them (just for a moment) to look at their horse. Do you know what they don't see?
If you answered "counter-bending", give yourself a gold star!
I'm not saying that all counter-bending problems can be solved always and forever by looking where you're going. I'm just saying that most of the problem can be addressed with this one simple solution. From there you can refine the results with much greater ease. 
Universally Useful!
Occam's Razor works really well when it comes to solving most problems. The nice thing about this philosophy is that the easiest solutions, also are usually the easiest to test, and the least disruptive to the horse. You can use this method of troubleshooting for everything from getting your horse to go straight, to choosing the best route through obstacles. 
Think of one specific problem that you're trying to solve with your horse. Write down all of the things that could be causing that problem. For each cause, write the potential solutions to that cause, including each and every step of that solution. 
For example, you might say that your horse is throwing his head all the time. That's a problem we have all seen, and we really hate to deal with. Keeping it short for this example, we'll look at two potential reasons.
FluffyPants Throws His Head

There's a problem with the bit
There's a problem with the rein handling
Now we can take a look at the potential solutions, and the steps they involve:
FluffyPants Throws His Head

There's a problem with the bit

Change the bit height/how it's sitting in his mouth
The bit is too small or too large

Order the same bit, different size

Test drive to see if there's a difference

He needs a different bit

Research potential alternatives

Borrow bits from friends (cheaper alternative)
Order new bit(s)

Test drive for 2-3 drive (unless it's really obvious it doesn't work on the first drive)

Repeat for each bit trial

There's a problem with the rein handling


My hands are too noisy, with inconsistent contact

Drive 2-3 sessions focusing almost entirely on keeping your hands quiet

I have too much contact, we're pulling on each other all the time

Establish better body position so you have more leverage
Develop a reliable halt

Work on developing on a good half halt
For each potential problem, the solutions make chains of supporting actions. If you look for the solution that has the fewest links in the chain, you've found the simplest solution. That doesn't mean it's the right one, but it will be easy to test, and move onto the next simplest solution if it doesn't work out. 
One Size Does Not Fit All
All of this said, let's not get carried away in what you are learning here. This is not saying that the simplest solution is always the right solution. It's just that the simplest solution is more often than not the right solution. 
If the simplest solution fails, once again, seek the second least complicated answer to your question. Remember to test just one hypothesis at time to test. Then keep the experiments going. 
Finally, be patient. Not every solution gives you instantaneous results. Sometimes you've got to work with a solution for a while for it to really show its value. If you take your time, and are thoughtful in how you approach your training problems, you may be able to solve them more easily than you think!