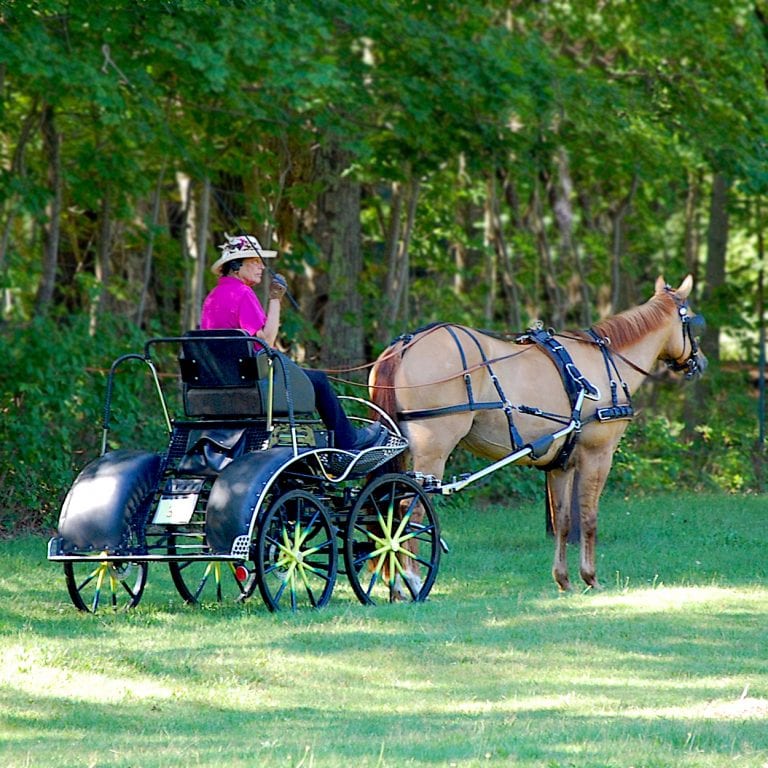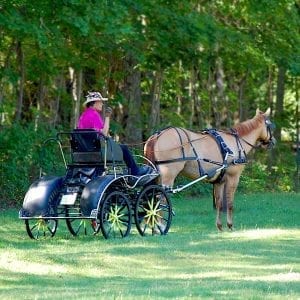 The most valuable skill you can teach a horse is to stand still. You may think that's an overstatement but it's not even the slightest exaggeration. You can accomplish more in all of your training by giving your horse "the skill of being still."
Unfortunately, many people fall into the trap of thinking that patience is something that a horse just has, or doesn't have. That leads them to believe that standing is something the horse is "willing" or "unwilling" to do. Nothing could be further from the truth!
Patience, and standing are skills that you can teach any horse (yes, I really do mean any horse!) The training teaches the horse how to focus on their person and follow that person's cues rather than doing whatever pops into the horse's head.
With some focused attention, you can get more done on this subject than you might think possible. Here are a few tips to get your horse to stand for you whenever you need him to.
Set Stand as a Specific Training Goal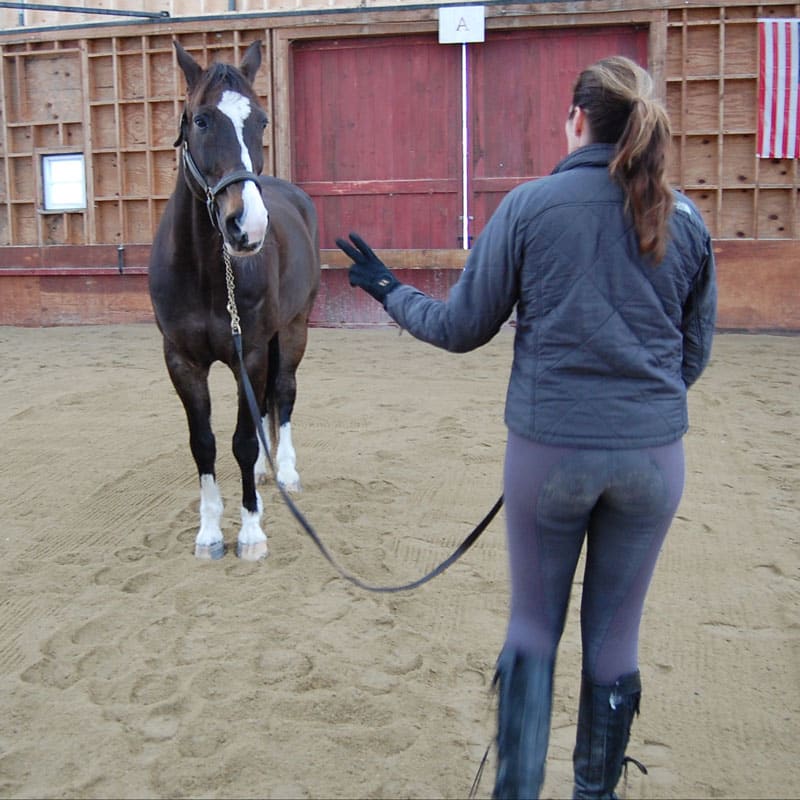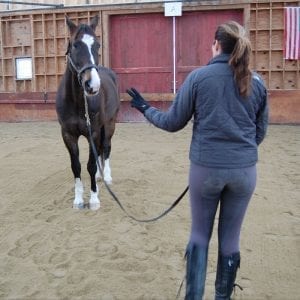 It seems that people set their horses up for failure even before they begin. They complain that "he doesn't stand when he's being groomed, tacked, at the mounting block, or hitching area." They want the horse to stand in all of those circumstances, but they haven't ever taught the horse the skill of being still!
You must first teach the horse that the act of immobility is actually a really big accomplishment. In order to explain that to your horse, you have to eliminate all other activities from the mix, and only focus on asking him to be still. That way when you reward him for his accomplishment, there's no doubt in his mind what it was that he was doing right.
These training sessions can be short 10-15 minute sessions. The trick is to quit when you're ahead. Perhaps all you'll accomplish the first step of having him stand in one spot for 2 minutes while you're relatively close by his side. That's progress!!
Congratulate your horse for his success and let him off the hook. Return him to his stall, or turn him out with his buddies. Believe it or not, your horse will notice. Each time you return to the exercise, you'll find your way to that success more quickly, and you'll be able to add more to it.
First you'll start adding more time to his stillness, then space between you and your horse. As he gets really good at it, you can start adding grooming and tack into the mix. The important thing is to remember that the stand is the focus of the training, rather than the side note.
Stand In One Place
It's not enough to ask the horse to stop moving. If he steps away from the place you've asked him to stand, you should return him as exactly as possible to the spot he was to be standing upon. I mean exactly.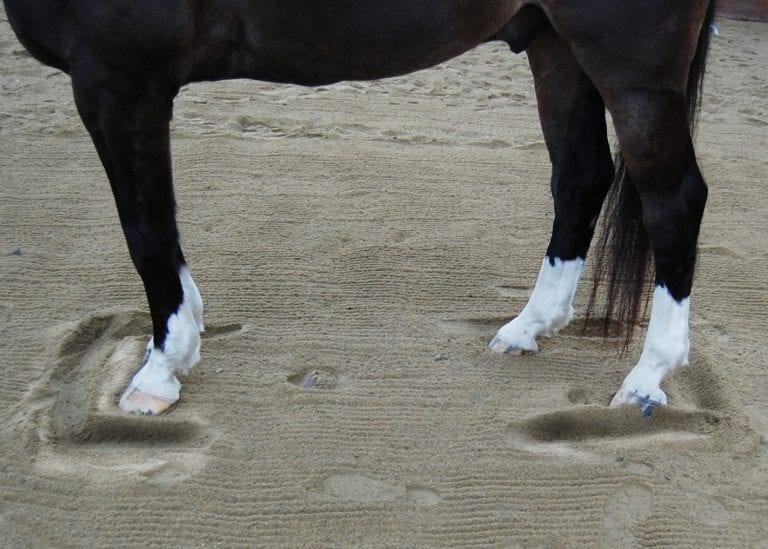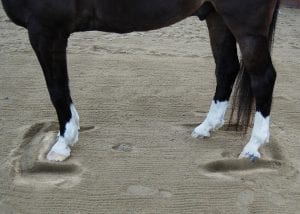 When I'm teaching a horse to stand, I use landmarks or literally draw a box around his feet. Each time the horse moves, I return him to that mark, both front and hind feet. I will correct his position to within inches of his original position.
This may seem like a trivial, but horses quickly begin to attach importance to "that one spot." The meaning of that spot grows, the more insistent you become on that being the only acceptable place to stand.
In fact, the clever ones will try to avoid stand just exactly the spot once they've figured it out. They'll put 3 feet in, but leave one out, just to prove that they don't really have to do it.
Stick to your guns, and get him back to that spot exactly. When you do, the mythical power of that spot will glue your horse's feet to the ground (well, in his mind anyway.)
Don't Hold Your Horse!
This may be one of the more difficult pieces of coaching for people to understand. After all, it just feels natural to hold your horse if you want him to stand still.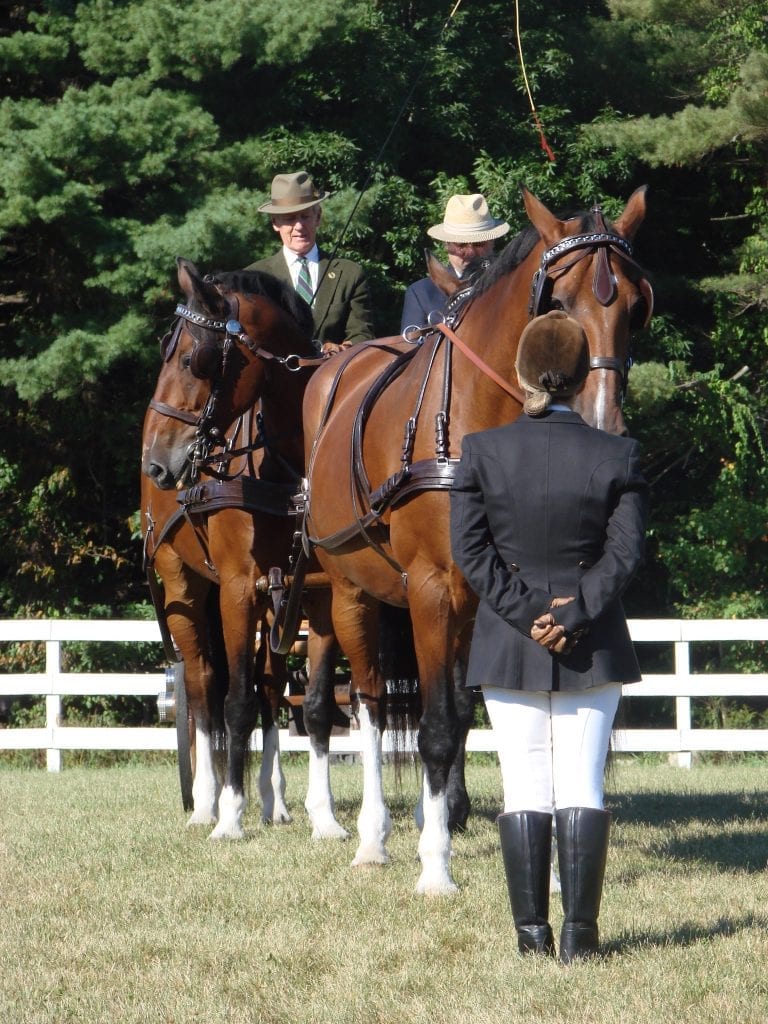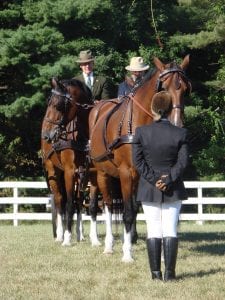 The trouble with that is the horse is dependent on your physical presence within his area of effect. Your horse isn't taking responsibility for the act of standing. Instead, you're keeping him still with your presence. Once you've left your horse's little bubble, he no longer has to be still.
Certainly as you begin to focus on teaching your horse how to stand still, you'll likely have to start out in a position right next to him. However, your goal should be to graduate to more hands-off, remote positions.
When I'm teaching a horse to stand, I start the first session with a very long lead rope. Each time I return him to being still, I step well away from him toward the end of that rope. As we build success, we graduate to a lunge line, and I change positions in an exercise I call "Around The World."
If I have to correct the horse for moving, I first correct him verbally, then with body language from several feet away. If he complies, I keep my distance. This "Around the World" training gives you a kind of remote control for your horse. When you can get him to be still from 10 yards away, getting him to be still for mounting or hitching is easy!
Keep Training!
As you can see in my course materials for Teach Your Horse to Stand, each step along the way needs specific attention. You start in the barn, then move to grooming, tacking up, hitching or mounting and so on, each in their own focused sessions.
As you build your horse's skill for being still, the training will begin to improve all of your experiences with your horse. He'll be more patient on the cross ties for grooming and tacking. He'll wait for you to mount and be less likely to fidget when you need to stop in the middle of a workout.
Most importantly, you'll have your horse's full attention from when you first take him out of the stall throughout all of your training. That leads better communication and more willing compliance in all of your training.
Those may sound like long promises for such a simple activity, but I've seen the results. Drivers and riders of all disciplines have shared stories with me not only about how well their horses stand, but how much their training improved after training this skill.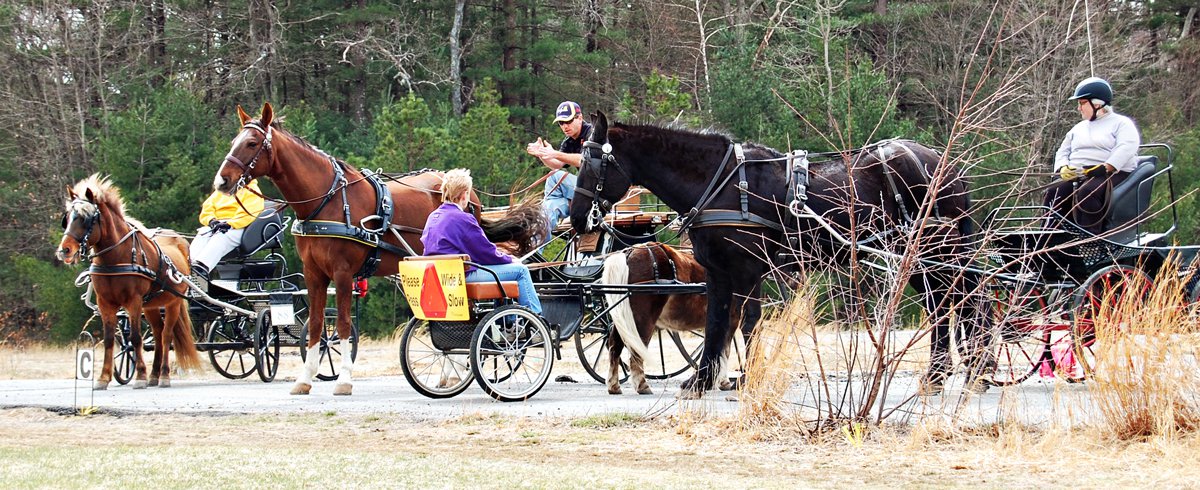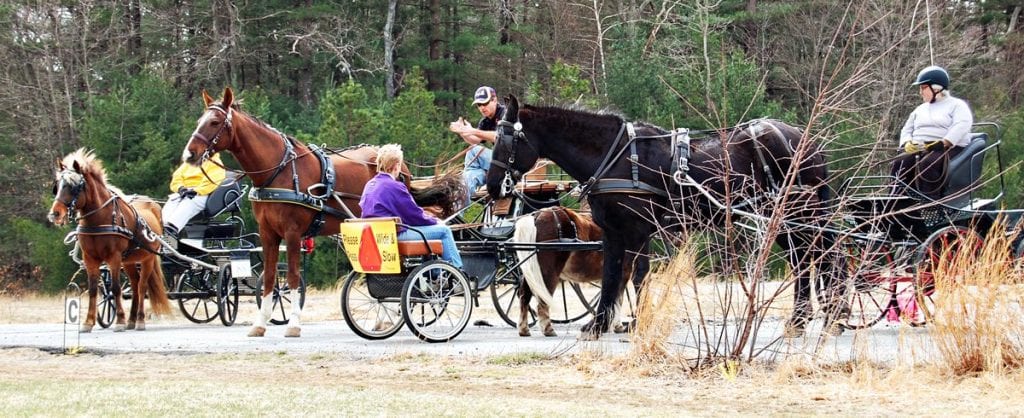 Have You Used This Training?
Have you taken the "Teach Your Horse to Stand" class, or used the lesson plans to get your horse or pony standing still? Tell us what you think the most important lesson you learned while training this skill. Share your success, thoughts and perspective in the comments section below. Everyone will benefit from your input!