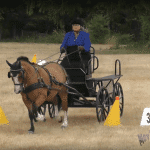 I got a great little success e-mail last week from one of my west-coast students, Deb Holmes.  She'd just finished up the Equestrian Institute Combined Driving Event in Ethel, WA where she won her division.  The note read:
RE: "There's no place like home" 

Andy,

Thank you again for all your words of wisdom, catchphrases and lesson plans. It all came together for us in the cones course. You should be proud to note that at the EI CDE this month, almost all of the top finishers were participants in your clinics! Well done you.
If you haven't had lessons with me, the subject line might not mean much to you.  My students will recognize the mantra immediately.  "There's no place like home" reminds them to click the heels of their hands together. This helps to remind them to keep their hands close together, rather than letting them drift in the direction they want the pony to go.  After all, your horse can't feel if your hands are moving to the left or right as your driving. They can only feel if you are communicating direction through the reins. (learn more —>
Rein Directions Your Horse Can Follow
)
Deb does a great job on a long, technical cones course keeping her body position where it belongs and communicating effectively with her pony to keep them on track.  Well done Deb! (Also, great video by: 
Moving Images NW
)
Subscribe to my YouTube Channel