Training the walk is one of the most beneficial pieces of training you can do for your carriage driving horse. The walk helps to establish rhythm, balance, and strength. 
Too many people fall into the trap of thinking "If it's not trotting, it's not training." Nothing could be further from the truth! The words an older and wiser trainer shared with me in my youth have served me throughout my decades of training horses in all disciplines. 
"Any fool can make a horse trot."
Training the walk does not have to be boring. There's a lot that you can do while focusing on the walk.
Here's a collection of blog posts and teaching related to the walk.
Walk Related Blog Posts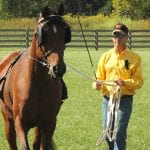 Tips for Returning Your Horse to Work
-
Every spring horse owners around the world wonder and worry about what they should be doing with, and expecting from their horses when they return them to regular work.  For some, the worry comes from fresh horses, that are full of a season's worth of pent-up energy.  Others are more concern about getting the horse… Continue Reading
Walk Related Learning